10 most remarkable events of science and technology in 2015 including policy mechanism issuing, social sciences and humanities, basic research, application research, international integration and honoring ceremony for scientists was announced yesterday by Science and Technology Journalist Club and Center for Media Research and Development in Science and Technology.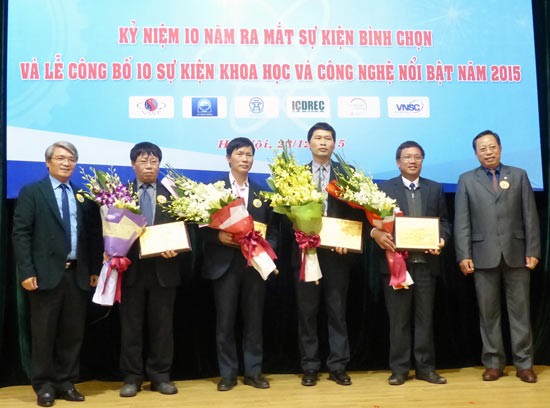 A honoring ceremony for 10 outstanding science and technology events in 2015. (Photo: SGGP)
The announcement is an annual event which is carried out by the club which is a member organization of the Vietnam Journalists Association and the center belonging to the Ministry of Science and Technology The two organizations conducted the survey for the first time in 2005.

There are 10 most remarkable events of science and technology in 2015:

1. The meeting between Prime Minister Nguyen Tan Dung with non-professional and young scientists

2. Opening ceremony of Vietnam 2015 Start-up and Technology Festival.

3. Inauguration of Center for researching, transferring and assessing technology at Hoa Lac Hi-tech Park in Hanoi.

4. The international workshop marks the 250th birthday anniversary of great poet Nguyen Du (1765-2015).

5. UNESCO recognized Viet Nam's two international centers, one for Mathematics and the other for Physics, as the Center of Type II.

6. First case of kidney transplant from non- heart beating donor was carried out successful in Cho Ray Hospital.

7. Technological solution featuring protecting riverside, ponds and sea dyke of Ba Ria- Vung Tau of water supply and drainage and urban development company.

8. General Department of Defense Industry tested successfully new weapons with high quality and reliability being suitable Vietnam's operational condition.

9. Vietnam listed top 3 ASEAN and stood the 52nd position of 141 economies worldwide about renovation index.

10. Dr. Tran Ha Lien Phuong who is a lecturer from the Vietnam National University-Ho Chi Minh City was the first Vietnamese to receive the International Rising Talents Grant under the L'Oreal-UNESCO for Women in Science program.