The gross domestic product (GDP) in 2014 is estimated to grow by 5.98 percent over the previous year, Director General of the Vietnam General Statistics Office (GSO) Nguyen Bich Lam reported at a press conference in Hanoi on December 27.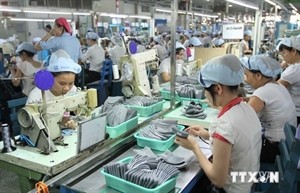 GDP in 2014 is estimated to grow by 5.98 percent over the previous year (Illustrative image. Photo: VNA)
He said this is a positive sign if compared to the 5.25 percent growth in 2012 and 5.42 percent in 2013, affirming that the macroeconomy remained stable, inflation continued to be kept at safe level and production showed good growth.
The industrial production index climbed by an estimated 7.6 percent year on year, much higher than the 5.9 percent rise of last year. The processing and manufacturing industry posted a year-on-year rise of 8.7 percent, while its inventory index by December 1 was up 10 percent from one year ago, compared to a 20.1 percent increase recorded at the same period in 2012 and 10.2 percent in 2013.
The December consumer price index (CPI) increased by 1.84 percent from one year ago. The average CPI this year showed a modest rise of 4.09 percent, or 0.15 percent increase each month, a low level in the last decade.
The FDI flow also showed positive signs. For the year ending December 15, the country counted 1,580 newly-licensed foreign direct investment (FDI) projects with a total registered capital of US$ 15.64 billion, up 24.5 percent in project number and 9.6 percent in value year on year. FDI disbursement was estimated at US$ 12.4 billion, a yearly rise of 7.4 percent and 2.9 percent higher than the set target.
The export turnover is estimated at US$ 150 billion, a rise of 13.6 percent compared to 2013. Excluding the price factor, the export value increased by 9.1 percent. Among the country's 28 export staples, four items brought home more than US$ 10 billion, and 15 earned more than US$ 1 billion. Meanwhile, import turnover was US$ 148 billion, up 12.1 percents.
In 2014, the country had 74,842 new businesses with a total registered capital of over VND 432 trillion (US$ 20.6 billion), down 2.7 percent in number but up 8.4 percent in capital. At the same time, 15,419 enterprises resumed operation, an increase of 7.1 percent from the 2013 figure.
Retail sales of goods and services were estimated to grow by 10.6 percent against the previous year, or 6.3 percent if excluding the price factor, while total social investment went up about 11.5 percent year-on-year and equivalent to 31 percent of the GDP.
Besides the achievements, there remain difficulties and challenges, including domestic prices' vulnerability to unpredictable changes in the world situation, poor competitiveness in the context of global integration and unsolved bad debts especially those of State-run businesses.
To achieve the 2015 target of 6.2 percent in GDP growth, the banking sector should study the real situation and development prospects of other sectors to offer more credit for business expansion, contributing to economic growth, said Ha Quang Tuyen, Director of the GSO's System of National Accounts Department.
According to Pham Dinh Thuy, Director of the GSO's Industrial Statistics Department, there were still many business dissolutions and suspensions during the year. He urged domestic enterprises to seek ways to improve productivity and apply new technologies in order to enhance their competitiveness even on the domestic market.