Czech Republic capital Prague has long boasted a buzzing cultural and artistic environment - and since the start of the current campaign, the city's footballing landscape has assumed a new vigour and unpredictability to match. "Paths are made by walking," according to Franz Kafka, the city's most famous son who died here in 1924. At the present time, three Prague clubs are duly treading confidently down what appear to be highly successful paths.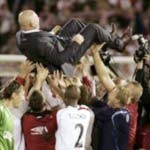 Slavia Prague's head coach Karel Jarolim is lifted up by his players after Champions League thir
While reigning champions Sparta Prague focus their efforts on defending the national crown, local rivals Slavia Prague are keen to build on their positive start in the UEFA Champions League and exploit their soaring confidence by maintaining their current position atop the domestic standings until the end of the campaign. The arch-rivals have been joined by a fresh face this term, as promoted Bohemians 1905 Prague aim to become the third established power in the picturesque metropolis on the river Vltava, pursuing a long-term plan to shake up the pecking order in the city radiating out from the incomparable beauty of Wenceslas Square.
FIFA.com has taken the opportunity to examine and investigate all three leading clubs a little more closely.
Sparta: Conveyor belt of international stars
Sparta have only suffered relegation from the national first division once, back in 1975. Even then they bounced straight back to the top flight after just one season away, saying practically all there is to say about the nation's most successful club. Firmly established among the European elite in the years prior to the second world war, a relatively quiet interlude followed before iconic stars Andrej Kvasnak and Jiri Tichy propelled Czechoslovakia to the Final of the 1962 FIFA World Cup Chile™, a match destined to end in a 3-1 defeat to Brazil.
The club has continued to function as a nursery for outstanding footballers: Tomas Rosicky, Petr Cech and Zdenek Grygera represent just a handful of old boys who cut their teeth at the traditionally working-class club, before making their way abroad and helping to establish the Czech Republic as one of Europe's leading footballing nations. Sparta's season has not quite lived up to expectations so far. In this summer's UEFA Champions League third qualifying round, coach Michal Bílek's men fell to an Arsenal side ironically featuring Rosicky, and they currently lie fourth in the domestic standings six points off the leaders, but those in the know are aware Sparta can never be entirely written off.
On seventh heaven at home and abroad
The front-runners Sparta have sworn to hunt down are their bitterest local rivals Slavia, themselves saddled with a reputation as perennial bridesmaids: since the introduction of the modern Czech league 13 years ago, Slavia have finished runners-up on eight occasions. The tables appear to be turning, as Slavia went one better than Sparta by defeating mighty Ajax Amsterdam twice to qualify for the UEFA Champions League group stage, where they instantly captured the headlines with a 2-1 victory over Steaua Bucharest. Matchday two saw a 4-2 away defeat to Sevilla, but Slavia have lost only one in nine in the Czech top flight and hold a comfortable lead at the top of the table.
"We've been waiting for this for a long time. Reaching the Champions League group stage is a dream come true, and we're just determined to enjoy it," explained Slavia coach Karel Jarolim, whose sons David and Lukas play abroad with Hamburger SV and AC Siena respectively. Slavia may struggle to progress from a Group H which also includes Arsenal, although the players will be burning to prove they can do better than rivals Sparta when they face the London giants.
Kangeroos bound into the limelight
Another touch of irony accompanied Slavia's sole domestic defeat, as it came at the hands of Bohemians 1905, the club whose promotion completed the Prague trio in the Czech top flight. Founded as the successor to the insolvent FC Bohemians Prague in 2005, officials spent the summer preparing for a tough campaign in the season after promotion. The Kangaroos, whose nickname derives from a two-month tour of Australia in 1927 with only three defeats in 20 matches, currently lie just two places above the drop zone on seven points from nine matches, although their solitary victory came at the expense of the leaders.
A fair amount of water will have to flow under the city's bridges before Bohemians 1905 can hope to match Sparta and Slavia on the field of play. However, Prague's third club have already earned a special place in the affections of the city's fans. It all makes for a clearly-defined dramatis personae: One giant, one increasingly strong pretender, and one underdog, a perfect cast waiting for a script, presumably constructed around a fascinating three-cornered relationship.