MELBOURNE, Jan 19, 2010 (AFP) - Eighth seed Jelena Jankovic saw off Romania's Monica Niculescu 6-4, 6-0 in the opening round of the Australian Open on Tuesday as she enjoyed a low-key start to the year's first Grand Slam.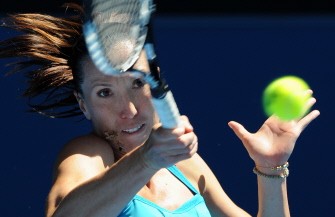 Jelena Jankovic hits a return against Monica Niculescu of Romania in their women's singles first round match on day two of the Australian Open tennis tournament in Melbourne on January 19 (AFP photo)
This time last year Jankovic entered the Australian Open as world number one, but failed to live up to expectations as she fell to Frenchwoman Marion Bartoli in the fourth round.
It is a different story in 2010 with the 24-year-old almost forgotten amidst the return of Belgian stars Kim Clijsters and Justine Henin and the rise of newcomers such as Caroline Wozniacki and Victoria Azarenka.
Jankovic started slowly against Niculescu but found her range in the second set as she raced to an easy win and a second round clash with England's Katie O'Brien.
"First matches are the toughest, especially after not competing for two months," Jankovic said.
"You know, it's nice to feel that rhythm again and feel that atmosphere and the pressure that you have from playing a real match.
"It's never the same when you are playing practice matches or doing practice drills on the court.
"I made some errors in the beginning, and then I just tried to stay calm and just tried to focus -- then I came back into the game.
"Second set, I figured out what she was doing and what I needed to do -- that was basically it, I finished the job in two sets."
Jankovic said she welcomed the return of Clijsters and Henin, saying their presence on the tour would boost the women's game.
"I think it's great for tennis that Kim and Justine are back," she said.
"I think when they were playing -- and I was obviously younger -- but they always motivated me to work hard on my game.
"And you know I always played some of my best tennis at the time they were playing.
"I played against Kim just when she came back in Montreal or in Toronto, I don't know, I don't remember anymore where we were playing (it was Toronto and Jankovic won in three sets).
"I think they bring a lot to tennis. That's the most important thing.
"I love the competition, even though it doesn't really sound logical that I'm happy that they're back.
"For me, it is the case, because I love to play against some of the greatest athletes and seeing where I am -- where is my level.
"They always bring the best out of me, so I'm happy that they're back."