MELBOURNE, Jan 20, 2010 (AFP) - Japan's former world number four Kimiko Date-Krumm, enjoying a comeback after more than a decade in retirement, said Wednesday she would continue playing even when she turns 40.
Date-Krumm, who hits the milestone in September, returned to the game in 2008 but her Australian Open dreams were shattered in the first round by Kazakhstan's Yaroslava Shvedova.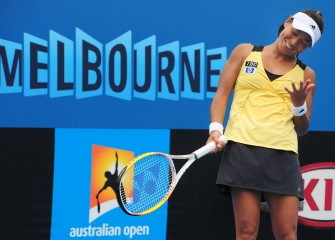 Japanese tennis player Kimiko Date-Krumm gestures during her women's singles match against Kazakhstan opponent Yaroslava Shvedova on the third day of play at the Australian Open tennis tournament in Melbourne on January 20, 2010. AFP photo
Despite the 6-4, 6-2 defeat, Date-Krumm said she planned to be back next year.
"Yes, even when I'm 40. I hope to be back next year as long as I stay injury-free," said Date-Krumm, who at 64 in the world is Japan's top-ranked player following the retirement of Ai Sugiyama last season.
Date-Krumm reached the world number four spot in 1995 before retiring a year later after failing to cope with the pressure of life on tour. She married German racing driver Michael Krumm in 2001.
After her comeback in 2008, she lost to Denmark's Caroline Wozniacki, then 18, in the first round at Wimbledon last year.
But in September, Date-Krumm chalked up her first tournament victory in 13 years, which made her the oldest winner of a WTA event since Billie Jean King in 1983.
She said she still felt she could tackle higher-ranked players, as shown by victories this month against two top-20 players -- Virginie Razzano and Nadia Petrova.
"I still feel I can keep going," she said. "I played three seeds at the Sydney International and I feel okay.
"My level has gone up over the past year and I think I have better chances now against the better players."