MELBOURNE, Jan 20, 2010 (AFP) - Low-key Russian world number three Svetlana Kuznetsova advanced to the third round of the Australian Open with a minimum of fuss on Wednesday, and that's the way she likes it.
The reigning French Open champion was far too good for teenage countrywoman Anastasia Pavlyuchenkova, winning 6-2, 6-2 in just over an hour.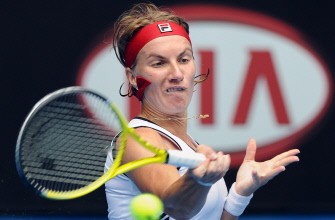 Kuznetsova hits a return during her victory over Anastasia Pavlyuchenkova of Russia in their women's singles second round match on day three of the Australian Open tennis tournament in Melbourne on January 20, 2010. AFP PHOTO
The understated 24-year-old became the first player in the tournament through to the third round and in doing so continued a remarkably consistent run in Grand Slam matches.
Kuznetsova, who also won the 2004 US Open, has now reached the third round in 17 successive majors.
She put her consistency down to a combination of experience and motivation.
"I have played for plenty of years already in Grand Slams and even though I'm 24, it feels like I've been here for a while," she said.
"I just get extra motivation when I play Slams, this is for what I work for, what I play for. You just enjoy it so much."
Although two appearances in the quarter-finals are her best effort at the Australian Open, a confident Kuznetsova said her game was in better shape than ever, as she had been working on becoming a player with more variety.
"I have worked on coming a little bit more into the court, because I had the defensive game, but then I want to come and play inside," she said.
"I want to come to the net because I think I can play different games and come outside, play outside, inside, come to the net.
"I want to be an all-zones player and I think I have a potential to do that."
Kuznetsova showcased her improved net game by winning 12 points that way, as well as reeling off 29 winners, to just seven from her opponent.
She admitted to expecting a little more opposition from the 39th-ranked Pavlyuchenkova, the pair having met in Beijing last year, with the promising 18-year-old reaching the third round of last year's French Open.
Nevertheless, she was pleased with her own game, although a little disappointed to have her serve broken twice.
"I was aggressive and I think I played well," she said.
"The only thing, I lost two serves in the first set and I had very low percentage around 40 per cent. I don't think that is good enough."
She will play either 26th seed Aravane Razai or qualifier Angelique Kerber in the third round.