LONDON, Jan 21, 2010 (AFP) - Arsene Wenger has warned Arsenal's title rivals that his side have the physical strength and will-power to win the Premier League.
Wenger's team moved into first place in the table with a 4-2 win over Bolton at the Emirates Stadium on Wednesday that underlined a new-found ability to flex their muscles.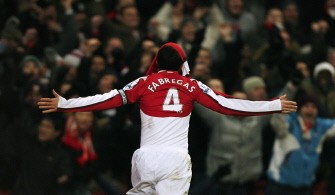 Arsenal captain Fabregas celebrates scoring the equalizer during their English Premier League football match against Bolton Wanderers at the Emirates Stadium, London on January 20, 2010. AFP PHOTO
While Arsenal have always had an impressive creative streak, they have often crumbled under pressure from opponents intent on kicking them into submission.
Judging by the way they stood up to Bolton's aggressive gameplan twice in four days to overhaul previous leaders Chelsea on goals scored, that is no longer the case.
They refused to buckle after Bolton stormed into a two-goal lead and mixed brain with brawn to romp home thanks to goals from Tomas Rosicky, Cesc Fabregas, Thomas Vermaelen and Andrey Arshavin.
William Gallas undoubtedly went too far with a nasty stamp on Bolton midfielder Mark Davies that went unpunished in the build-up to Fabregas's equaliser and the visitors were rightly infuriated by referee Alan Wiley's decision to not even award a foul.
Wenger apologised for Gallas's tackle but he admitted he was delighted with Arsenal's resilience.
"We had two difficult games against a team with a new manager and our mental and physical strength was tested in both games," he said.
"I think we can mix it. We are certainly much more physical. They marked us man for man and didn't give us an inch of space. You are never better tested physically than when you face Bolton.
"I am sorry if the tackle was not good and I apologise for that. However, to complain that we went on to play, I think that is unfair. The players did not even know what was happening behind them."
Wenger's men will need that extra fortitude in the coming weeks.
After a 3-0 defeat against Chelsea left them 11 points behind in November, Arsenal have reeled off seven wins from nine matches to overhaul the Blues and Manchester United.
But now they face a defining period. In the space of 14 days, the Gunners travel to Aston Villa, then host United, make the short journey to Chelsea and then entertain Liverpool.
Wenger said: "The next four games are very important for us. It shows it can change quickly when you keep believing no matter what people say. This is a big boost to our belief. I am very proud of what they have achieved.
"We are in a fight where we are top of the league and have a good number of points but the real difference is made when you play the teams around you.
"Mathematically it has a big impact on all the teams. We believe we have a real chance and I am convinced we will have a real go."
Bolton boss Owen Coyle, whose side had gone ahead through Gary Cahill and increased their lead thanks to Matthew Taylor's penalty, was left to bemoan Wiley's refusal to punish Gallas's foul.
The Scot, beaten by the Gunners in his first two matches in charge, also aimed a dig at Arsenal's players for refusing to stop play as Davies lay prone with severe ankle ligament damage.
"The second goal, there is no doubt was a big turning point in the game," Coyle said. "It is clearly not even just a foul, I'd suggest it's closer to a red card.
"The referee hasn't seen the lad is lying prostrate on the ground and Arsenal, being full of fair play as we keep hearing, have played on and scored an equaliser so it's hard to take.
"If you see it again, it was a terrible challenge. The lad was clearly in agony.
"I can accept it if William Gallas got a bit of the ball and carried through. That is the game we play, but he got absolutely none of it.
"The referee said he never saw it but I was 40 yards away and I saw it. He was five yards away. Maybe he had a bad angle. I've seen red cards given for less, that's all I can say."