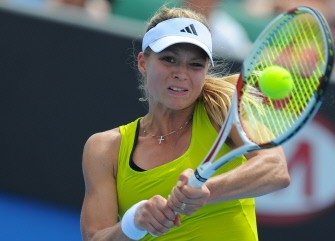 Maria Kirilenko plays a backhand return during her women's singles match against Austrian opponent Yvonne Meusberger on the third day of play at the Australian Open in Melbourne on January 20, 2010 (AFP photo)
MELBOURNE, Jan 20, 2010 (AFP) - Russian giantkiller Maria Kirilenko, who ended Maria Sharapova's Australian Open, continued her winning ways by beating Austria's Yvonne Meusburger in the second round Wednesday.
The glamorous world number 58 had her hands full with the cagey and experienced Austrian, but the 6-3, 6-1 win put her within sight of equalling her best ever Grand Slam performance.
The 22-year-old, who has been as high as 18th in the world, reached the fourth round here in 2008, and faces either 63rd-ranked Italian Roberta Vinci or 79th-ranked American Vania King next up.
Speaking after the win, Kirilenko said it was hard to compare her form against Meusburger with that against Sharapova on Monday, when she won a marathon three set match.
However, with last year's knee problems behind her, Kirilenko's confidence is on the rise.
"I am playing good tennis now," she said. "I feel physically ready to play three sets like I did against Maria.
"I am just trying to do my best and take it step by step."
Although the scoreline suggested an easy win for the Russian, the match lasted one hour and 40 minutes, and there were some long games as the Austrian defended stoutly.
"I can't say the game was easy for me," she said.
"The score is easy, but it was quite a long match, two sets and almost two hours.
"It was a very difficult match and I have to fight for every point, she always gets the ball back."