England, Jan 21, 2010 (AFP) - Liverpool manager Rafael Benitez is confident his team will go from strength to strength in the second half of the season after their 2-0 victory over Tottenham Hotspur here at Anfield.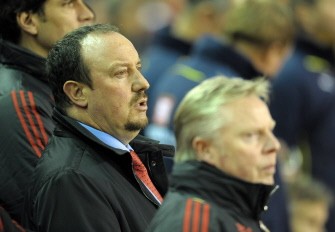 Rafael Benitez (C) stands before his team take on Tottenham Hotspur during their English Premier League football match at Anfield in Liverpool on January 20, 2010. AFP PHOTO
Wednesday's Premier League win moved Liverpool to within a point of fourth-placed Spurs, who currently occupy the final qualifying place on offer to English clubs for next season's Champions League.
Liverpool, who've endured a largely lacklustre season to date, are currently without first-team players Fernando Torres, Steven Gerrard, Yossi Benayoun and Glen Johnson through injury.
But Benitez believes previous campaigns have shown the Reds they can still make a charge in the final weeks of the season.
And, having previously guaranteed a top-four finish, he is sure his side are well positioned in the race to finish in the Champions League places.
"It's question of having the players available and if you don't have these players at least we've seen they can work like this," Benitez told reporters after Wednesday's match.
"In the last five years we've done better in the second part of the league," the Spaniard added.
"Everybody knows Liverpool is a good team and it was a question of starting to win games and show the quality.
"The squad is not as bad as people have said," he insisted. "We were playing without six players that could maybe start and all of them are quality players but the rest of the squad has showed character.
"It was important for everyone here because we knew we had to reduce the gap to stay in the race. I'm pleased with the players, with their attitude, their spirit and effort and we showed real character."
Meanwhile Tottenham manager Harry Redknapp said the Londoners were still strong runners in a four-horse race for fourth place despite losing to two goals from Liverpool's Dirk Kuyt, the Dutch striker scoring early on before his stoppage-time penalty put the result beyond doubt.
"It's open. Man City, Liverpool, Aston Villa, Tottenham, it's a toss-up.
"We've been on a good run and just because we lose one doesn't mean we're out of it," the former Portsmouth manager added.
"It's all to play for still, It's very open and I wouldn't like to say where the momentum is."
Nevertheless, Redknapp admitted Spurs had missed a trick at Anfield.
"It was a good chance for us at Liverpool," he said. "When you come here and you see Liverpool without Gerrard, Torres, Johnson, Benayoun, you've got to think it's a good opportunity."
Even though Tottenham have not won away at the so-called 'Big Four' of Liverpool, Chelsea, Manchester United or Arsenal in 66 attempts, Redknapp said he would not be changing Spurs's style of play on their travels.
"We all felt we could win, we played a very open attacking team, two people who play off the wide men, who don't really defend, and two strikers who don't drop in and defend.
"We're an open team that came here and looked to win and that's how we play," Redknapp explained.
Redknapp has been linked with a January transfer window move for Real Madrid striker Ruud van Nistelrooy, the former Manchester United forward.
But he added he was unlikely to bring any new players to White Hart Lane this month, saying: "I'd be surprised if we sign anybody."