Viet Nam is one of the countries most vulnerable to impacts of climate change, the United States Ambassador (US) to Viet Nam Ted Osius said.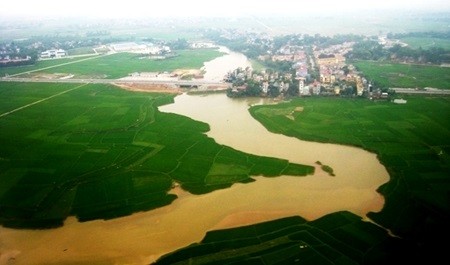 Viet Nam is one of the countries most vulnerable to impacts of climate change, the United States Ambassador (US) to Viet Nam Ted Osius said. — Illustrative Image khoahocphattrien.vn
Speaking at a two-day symposium on co-ordinated responses to climate change last week in Hai Phong City, Ted Osius said the Red River Delta was particularly at risk.
Ted Osius said the negative impacts felt by the people living in the Red River Delta were shared by many communities in the United States.
"This shared experience is in part why both the United States and Viet Nam have a strong determination to reverse the course of climate change and effectively adapt to its impacts," he said.
The pressing issue brought together researchers, activists, representatives of international development partners and Vietnamese government officials at the central and provincial levels to discuss co-operative measures.
The event, the second of its kind under the Forests and Deltas Programme, was held by Agriculture and Rural Development Ministry (MARD) with the support of US Agency for International Development (USAID).
According to the participants, five coastal provinces and cities in the Red River Delta — Hai Phong, Quang Ninh, Nam Dinh and Thai Binh, besides Ninh Binh — have been affected by extreme weather events.
Tran Ha, deputy head of Quang Ninh's water management and climate change department, said the province faced frequent natural disasters and extreme weather over the past years. The total rain volume during the historic 10-day rainfall in July last year could be equal to or even exceed the amount in 1991. The record cold snap last month in the northern region pulled temperature down at Dong Pagoda on Yen Tu Mountain to minus five degrees Celsius and in other areas to below five degrees Celsius.
Meanwhile, greenhouse emissions from agriculture, aquaculture, industrial sector and transport have been major issues of Hai Phong. The emissions were expected to jump by 3.67 per cent in 2020 compared to 2010, Pham Van Can, director of Sea and Islands Department under the city's Department of Natural Resources and Environment, said.
MARD Deputy Minister Le Quoc Doanh said co-ordinated responses at the delta level and among sectors were urgent tasks needed to tackle the issue. "Viet Nam needs the support of non-government organisations, businesses, the public and the international community," he said.
Authorised agencies of five affected provinces and cities also suggested co-operative measures, including revising and developing mangroves forests to create green edges against saline intrusion, protect coastal areas and ensure local livelihoods.