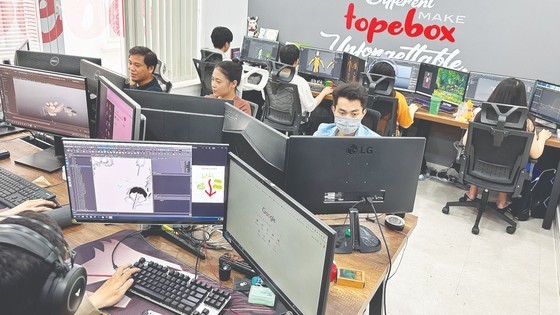 Topebox Game Studio, a Vietnamese startup specializing in games, in Go Vap District (Photo: SGGP)
At yesterday's seminar 'Implementing solutions to prevent payment for unauthorized games' in Hanoi, Mr. Le Quang Tu Do, Director of the Authority of Broadcasting and Electronic Information under the Ministry of Information and Communications, said that from 2019 until now, at the request of the Authority, Google has removed 294 gambling games, violent games, and unauthorized games while Apple removed 90 gambling, redeeming, unauthorized games as well as suspended 543 websites providing unauthorized games, gambling games, exchanging prizes. However, the biggest limitation now is that it is very easy to pay for unauthorized games in many forms.
According to the Authority, hundreds of thousands of unauthorized games are being released online, mainly on the Apple App Store, Google Play Store, and Valve Stream. Moreover, the available payment channels that support unauthorized games in Vietnam include payment intermediaries (e-wallets) or bank transfers (internet banking); Google Play with e-wallets like MoMo, ZaloPay, VTC Pay, credit or debit cards such as MasterCard, Visa, Visa Electron; telecommunications accounts Vinaphone, MobiFone, or Viettel and Apple Store (with e-wallet) like Momo, ShopeePay; credit or debit cards MasterCard and Visa. Along with that is payment via payment websites such as muacash.com; napgamelau.com; napgamemobile.com; napgame247.com; naplau.com.
These websites pay by direct transfer from users to the bank account, or e-wallet of the payee. After that, the payee makes a top-up via apps on Google and Apple. In Vietnam today, when releasing a game on the app store, the revenue from payment via credit card (Visa/Master) accounts for 5-7 percent, via MoMo e-wallet accounts for 60 percent, and the rest are other forms.
At the seminar, representatives of payment intermediaries such as MoMo, VTC Pay, Viettel Money, Ngan Luong said that it is not easy to determine if it is an unlicensed game; therefore, they proposed the Ministry of Information and Communications and functional agencies to provide a list of unlicensed games and pirated game businesses so that these units can base on that not to allow subscribers to make payments, as well as to work with partners such as Google, Apple about the payment matter.
According to these businesses, the Ministry of Information and Communications needs to work directly with Google and Apple to prevent the release of unauthorized games to the two app stores from the beginning, creating fairness for domestic game companies.
Mr. Pham Anh Tuan, Director of the Payment Department under the State Bank of Vietnam, said that it is necessary to determine the legality of goods during the payment process. He said application markets of Apple and Google are like items in a supermarket, so relevant ministries and agencies must be responsible for the legality of the game as well as the services on it while the transaction between the buyer and the seller is like paying for an item in a supermarket.
The Ministry of Information and Communications and related agencies need to provide a list of illegal games on the Internet; as well as accounts identified as receiving money from unauthorized games. This list is updated monthly, even weekly, as soon as possible. On that basis, the State Bank will request payment intermediaries and credit institutions to stop transactions and payments.
Deputy Minister Nguyen Thanh Lam announced to direct the Authority of Broadcasting and Electronic Information to send monthly lists of licensed and unlicensed games for payment intermediaries so that competent agencies will base on that to handle the cases. The Ministry of Information and Communications will coordinate with the Ministry of Public Security and the State Bank to inspect and strictly handle if the payment intermediary continues to pay for unauthorized games.
The State Bank should take measures to prevent these intermediaries from being paid for unauthorized games. With Apple and Google, the regulator will recommend not to cooperate with these payment intermediaries to pay for games on the two above app stores.