Smoke was seen rising on Sunday from the village in Sirte where Moamer Kadhafi was born, an AFP correspondent said, as fighters with Libya's new regime said NATO air strikes were hitting the area.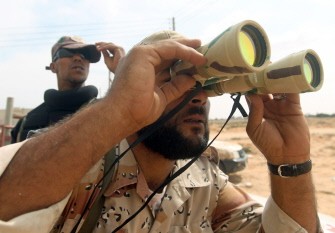 A National Transitional Council fighter uses binoculars as they take position on the eastern front line of Sirte on October 2, 2011.
Masoud Jema al-Amari, a fighter from the eastern city of Benghazi, said there had been clashes in the village of Abu Hadi, where Kadhafi was reportedly born in a Bedouin tent in 1942.
"There are a few Kadhafi fighters still in there. NATO asked us to pull back" so they could launch air strikes on the town, on the southern outskirts of Sirte near the local airport, he said.
Imam Mahmoud Hammoud al-Kaleni, who was seen leaving the village with his family, said fighters from Libya's new regime had told them to urgently leave the area.
"The thwar (fighters) escorted us out. They came to our house and told us we had one hour to leave. They told us it was safe to leave," he said.
Fighting between the forces of Libya's National Transitional Council (NTC) and fighters still loyal to Kadhafi was raging in Sirte on Sunday, as streams of civilians fled the besieged city and the international Red Cross warned of a medical emergency