Central Vietnam has recently experienced severe flooding but people here still had to go about their basic chores of lighting a fire to cook food, access clean drinking water and finding food to eat.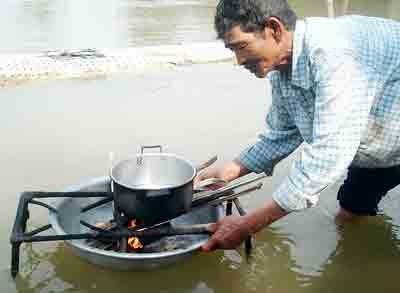 Old Phan Van Tho with his innovative stove invention (Photo: SGGP)
During such dire times, the innovative inventions created by 'barefoot scientists' have proved useful, functional and economical.
Recently, soon after the devastating floods in mid October that inundated most of Giap Trung village in Huong Toan commune of District Huong Tra, the worst-hit area in the central province of Thua Thien-Hue, residents said they could cook their food on a mobile stove invented by 62 year old Phan Van Tho.
Old man Phan Van Tho used an aluminum wash-basin, rice husks, wooden sticks and an iron tripod with four legs to make the cooking stove. When his wife and children removed their household belongings to higher ground during the floods, Tho cooked meals on his own invention. He shared his feelings, "I work best when my back is against the wall, during the floods we had to live in neighbor's houses and there was no one to serve us meals as my family is large with seven members."
Currently, many families are using stoves made by Tho to cook meals and boil water, in order to avoid diarrhea and cholera.
Three more innovative inventors who made gadgets to treat water, are eleventh grade students of Dang Tran Con high school in Hue Town. Their invention was checked by the Water Supply Company which confirmed that the water quality was satisfactory.
Another invention created by a farmer Cao Van Huong in Tien Lai village in Vinh Lam commune of Vinh Linh District in the central province of Quang Tri is a kiln to dry rice during the flood season.
Tens of thousands of unhusked rice sprout after harvesting as there is no sun to dry them, resulting in huge losses to farmers.
Farmer Huong's kiln is made from simple items like bamboo sticks, mud, net and straw. The kiln has proved its effectiveness in drying rice with many families benefitting from its use.
Another innovative invention has been made by farmers in Quang Thanh commune in Quang Dien district in the central province of Thua Thien-Hue. They have created a concrete stand for planting vegetables with some assistance from the Institute of Natural Resources, Environment and Bio Technology.
They constructed a high concrete stand or wooden stand. On the stand, farmers placed a sheet of iron on which a 25 centimeter-thick layer of fertilizer and soil was dumped. Farmers used nylon bags to make the roof. Vegetables planted in this soil was protected from adverse conditions besides being safe for consumption because farmers used microbiological fertilizers. Farmers increased profits by using this model of planting vegetables on stand.
Residents in Duc Tho district in the central province of Ha Tinh invented a boat with a storehouse on the roof where they stockpiled foodstuffs during the flood season. They also made a coop for their cattle and water fowl under the storehouse.
The government should give support to such useful innovative inventions made by primitive and simple village folk to encourage cheap and economical gadgets that come in handy during times of need.