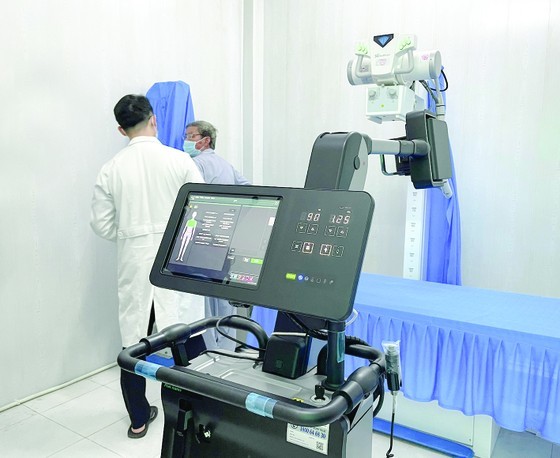 The Department of Health of Ho Chi Minh City has lately piloted X-ray machines with artificial intelligence (AI) in Thanh An island Commune of Can Gio outlying district (Photo: SGGP)
Many grassroots health establishments are underdeveloped due to a lack of investment. With the annual budget, the health sector in Ho Chi Minh City prioritizes upgrading and repairing 50 grassroots medical stations according to the family medicine model. In 2023, the city will spend its government's budget renovating 146 healthcare stations. Moreover, the city will purchase appropriate equipment for medical centers.
The Department of Health of Ho Chi Minh City has lately piloted X-ray machines with artificial intelligence (AI) in Thanh An island Commune of Can Gio outlying district. Later, it will advise the People's Committee of Ho Chi Minh City to continue implementing renovation and use of modern machines at medical stations in suburban districts.
Director of Ho Chi Minh City Department of Health Tang Chi Thuong said that the city's health sector continues to maintain connections between doctors working at medical facilities in distant districts and specialists in large hospitals to receive remote consultation and professional advice.
At the same time, the city strives to expand the drug list in these special medical stations. Physicians at such facilities are assigned to manage chronic non-communicable diseases such as diabetes, cardiovascular disease, chronic lung disease, and cancer (in the early stage).
Furthermore, more medicines will be added to the list of drugs for insured patients, especially drugs for outpatients with non-communicable diseases.
Recognizing that grassroots medical establishments are underdeveloped, to improve the quality, Associate Professor Tang Chi Thuong said that in addition to investment in infrastructure, the city must have appropriate remuneration policies in attracting human resources especially general practitioners and family doctors to improve medical services at grassroots healthcare clinics.
Currently, Ho Chi Minh City's primary healthcare has only 0.25 general doctors per 10,000 population, this rate is too low. In addition, it is necessary to develop a wide network of public health collaborators who will closely monitor people's health problems. Public health collaborators play an important role in primary health care for people at a local level.
Assoc. Prof. Nguyen Thanh Hiep, Principal of Pham Ngoc Thach University of Medicine, said that it is necessary to have a proper investment policy for the grassroots health system. Medical facilities at the ward and commune level, and private clinics operating under the family doctor mechanism will provide primary medical examination and treatment services for people. If the grassroots health system receives more professional support and remote online consultations from doctors in big infirmaries, this will definitely be a complete system.
At the National Assembly's yesterday session, monitoring results were announced that spending on grassroots health in total social health expenditure decreased from 32.4 percent in 2017 to 23.1 percent in 2019. The proportion of expenditure on medical examination and treatment covered by health insurance at the grassroots health level was 34.5 percent in 2022, yet it was 1.7 percent at the commune level.
The allocation of recurrent expenditures other than salaries to commune health stations is still low, with some localities reaching only VND 10million- VND20 million a station annually which was just only enough for paying electricity bills, water bills, and administrative expenses. Plus, medical staff's income and remuneration are too low; for instance, the level of support for village health workers is only 0.3 and 0.5 compared to the base salary or equivalent to VND 447,000 and VND745,000.