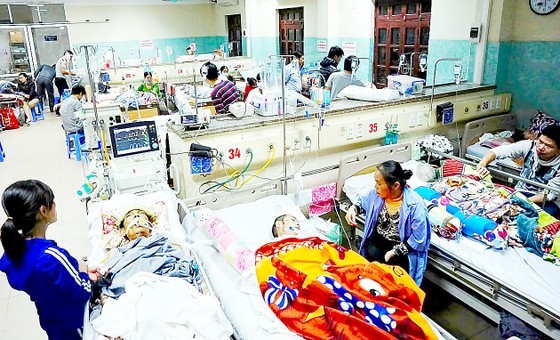 Frostbite drives elderly and children into hospitals
Northern provinces and cities are experiencing cold spells from the 2023 Lunar New Year holiday to the present. The temperature fell to 9-11 degrees Celsius, even 1-3 degrees Celsius in mountainous areas which have greatly affected people's health.
Hanoi-based infirmaries such as Bach Mai, Children's Central Hospital, Thanh Nhan, and Saint Paul have recently recorded an increasing number of hospitalizations due to extreme cold weather. For instance, Bach Mai Hospital admitted nearly 2,000 patients over the past week; worse, many of them have had very severe strokes.
According to Assoc. Prof. Dr. Mai Duy Ton, Director of the Bach Mai Hospital's Stroke Center, when the weather is cold extremely, the number of stroke patients admitted to the emergency room increased significantly and the number of severe cases also surged. Moreover, the risk of having a stroke increased by 80 percent, especially when the temperature dropped below 15 degrees Celsius and the temperature dropped suddenly.
Along with that, due to the cold weather, many people are more lazy to exercise, so this may also be a contributor to an increased risk of stroke.
At the Central Geriatric Hospital, the number of elderly people hospitalized for treatment due to heart diseases, blood pressure, bones, joints, and respiratory diseases also increased dramatically due to the effect of severe and prolonged colds.
At the National Children's Hospital, about 1,400-1,600 children are brought to the hospital for examination and treatment per day; most of them had respiratory infections, coughs, and fevers.