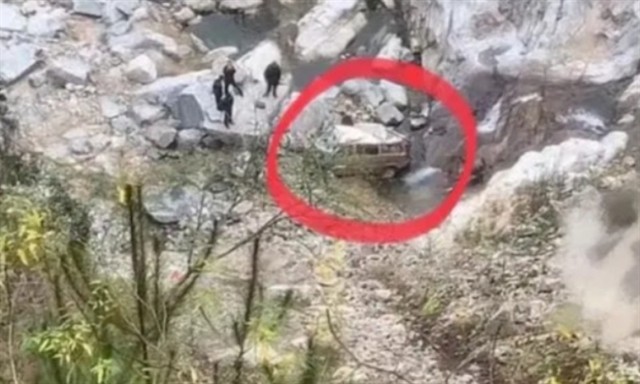 The site of the incident where a car plunged off the cliff near the border with China. (Photo news.china.com)
The total number of fatalities from the crash now stands at 11, all people carrying Vietnamese papers. Two Vietnamese injured in the accident are being treated in hospital.
Chinese media reported that at around 6.30am on May 19, a seven-seater vehicle with 14 people on board plunged off a cliff into a lake in Guangxi, near the border with Vietnam.
Local authorities suspect that the accident is related to human trafficking activities in the border area. One of the survivors, who was the driver of the vehicle, has been temporarily detained for investigation.
After receiving the information, the foreign ministry urgently coordinated with relevant agencies in Việt Nam to verify the identities of the victims, promptly notify their families and relevant localities to implement necessary post-incident procedures.
Previously, on May 21, 2023, representatives of the Vietnamese Consulate General in Nanning visited to the two injured Vietnamese citizens.
They are both currently in stable condition and say they want to return home soon to reunite with their families.
The foreign ministry has instructed the Consular Department and the Vietnamese Consulate General in Nanning to continue closely monitoring the developments of the case, coordinating with local authorities and domestic agencies to guide and support the families of the victims in promptly bringing their remains back to Vietnam while implementing necessary citizen protection work to also bring home the two injured passengers.