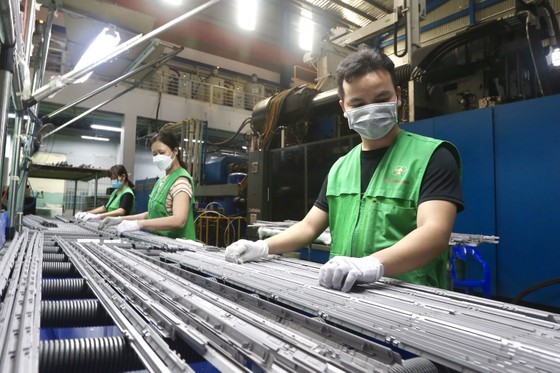 High lending interest rates will challenge the target of controlling inflation as well as production and business activities. (Photo: SGGP)
Vietnam has been controlling inflation quite well when the average inflation in 2022 was only 3.15 percent, and this year, the Government aims to control inflation at 4.5 percent. However, lending interest rates of banks are at a high level, which will challenge the target of controlling inflation as well as production and business activities.
Loan interest rates are difficult to cool down
The records on interest rates in the days after the Lunar New Year show that the deposit interest rate race among banks is showing signs of cooling down. The deposit interest rates for some terms have been reduced by 0.1-1 percent per annum by many banks. Currently, the general interest rate level is at 8-9.5 percent per annum for a term of 6-12 months.
The deposit interest rate has shown signs of cooling down partly because banks' demand for capital for lending at the beginning of the year is no longer too high. Businesses have passed the peak of the capital crunch for production for the Tet holiday. In addition, all banks list the official interest rate at no more than 9.5 percent per annum because, by the end of 2022, the State Bank of Vietnam (SBV) asked commercial banks to control deposit interest rates at 9.5 percent per annum.
However, according to FiinGroup, a unit specializing in providing financial data and analysis, the pressure to raise interest rates will still exist when central banks around the world have plans to increase interest rates in 2023. For example, the US Federal Reserve has officially raised interest rates by 0.25 percent to 4.5-4.75 percent. This is the 8th interest rate hike of the Fed in the tightening monetary policy cycle, starting in March 2022. It is forecasted that the agency will likely increase interest rates to 5 percent and maintain this level until the end of 2023, as well as prolong tightening policy, thereby increasing the risk of recession in other countries.
Meanwhile, domestically, market liquidity cannot soon improve due to congestion in the disbursement of public investment capital and the absence of strong and effective measures to support the corporate bond and real estate markets. With the double impact of both domestic and international markets, FinnGroup believes that domestic interest rates cannot decrease much, at least in the next 6-12 months.
Recently, the State Bank has called and asked banks to reduce input costs so as to lower output interest rates. To fulfill this requirement, currently, four State-owned commercial banks, namely Agribank, Vietcombank, BIDV, and VietinBank, and some commercial banks have cut lending interest rates to support businesses. However, under the pressure of the market, many financial experts said that it is difficult for the lending interest rate level to cool down in the first half of this year, especially when the lending interest rate fluctuation always has a delay compared to the deposit interest rate.
Pumping money to prevent capital shortage
In the context that the capital market still faces many difficulties, credit capital is considered the main driving force for growth. In 2023, the banking industry has been assigned by the Prime Minister to manage credit growth reasonably, ensuring sufficient capital for the economy with reasonable costs and interest. Currently, the SBV has not announced credit growth in 2023 but based on credit growth in 2022, the SBV's credit orientation this year is at 14-15 percent. With the economic growth target at only 6.5 percent this year, experts said that if credit policy is managed flexibly, the banking system will pump out about VND1.7-1.8 quadrillion, and the market will not lack capital.
However, with the current interest rate, not only do businesses find it difficult to access loans, but even those that are eligible for loans will also be wary and stop expanding production and business activities. Dr. Can Van Luc, a member of the National Monetary and Financial Advisory Council, assessed that if the Fed continues to raise interest rates this year, the pressure on domestic interest rates and exchange rates will still exist. However, the State Bank should accept the devaluation of the Vietnamese dong more without raising the benchmark interest rate because if the interest rate increases too strongly, it will be too much for businesses to bear.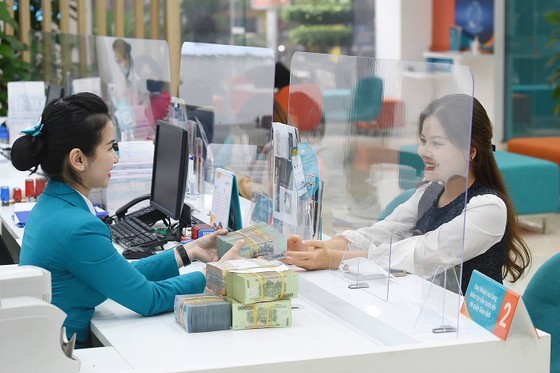 Customers do transactions at a bank. (Photo: SGGP)
Dr. Le Xuan Nghia, an economist, also said that lending interest rates are at a too high level, while Vietnam has a low inflation rate and a stable exchange rate, which is absurd.
According to Dr. Le Xuan Nghia, inflation does not come from monetary factors. Meanwhile, Vietnam's tightening monetary policy causes insufficient money in circulation, making interest rates rise. To support businesses and promote economic growth, it is essential to lower interest rates.
Dr. Le Xuan Nghia pointed out that the solution to lower interest rates is to increase the money supply. At the same time, it is necessary to coordinate with fiscal policy to reduce import taxes and commodity prices to curb inflation. "With expected inflation of 4.5 percent in 2023, deposit interest rates must decrease to 6-7 percent per annum, then lending interest rates will not be too much for businesses as they are now," said Dr. Le Xuan Nghia.
* Mr. Nguyen Duc Lenh, Deputy Director of the SBV HCMC Branch: Continuing to support enterprises to restore production and business activities
In 2023, HCMC's banking industry will continue providing solutions to support enterprises in production and business activity restoration, and economic development. Specifically, it will continue the credit programs for enterprises that have well implemented the 2-percent interest rate support package. In addition, HCMC's banking industry will well implement policy credit programs, social housing credit, and consumer credit with low-interest rate packages in order to limit black credit, contributing to ensuring social security and sustainable growth.
In the last days of January 2023, in the last four trading sessions, the SBV injected a net value of VND64.65 trillion without withdrawing money. Accordingly, the total amount of money this agency net injected in one month reached nearly VND122 trillion, higher than the net withdrawal of VND92.5 trillion in the last month of 2022.
* Mr. Nguyen Quang Thuan, Chairman of FiinGroup: High interest rates are a big challenge for the capital market
If interest rates do not decrease, it will be a big challenge for the capital market and the economic growth target this year, as well as major balances for the following years. As the deposit interest rates remain at the current level (9-10 percent), it is difficult for businesses to mobilize capital for development and investment. People continue to deposit money in banks with low risk and equally attractive levels as putting money into investment channels.
* Assoc. Prof.-Dr. Dinh Trong Thinh, Academy of Finance: Fed's interest rate hike does not put much pressure on Vietnam
Fed's interest rate hike at 0.25 percent is predicted previously. The low interest rate rise will affect businesses operating abroad and those that have to borrow international loans in US dollars because they have to bear higher interest rates. However, the pressure on the USD/VND exchange rate in this interest rate increase of the Fed is not significant because the US dollar has been in a continuous downtrend recently. The value of VND against USD is still guaranteed by the SBV, so it can support production activities and economic growth. To contribute to supporting businesses, the SBV needs to have solutions to aid commercial banks in reducing the cost of mobilized capital, thereby lowering lending interest rates.