Rice industry plays a significant role in ensuring food security and providing jobs to 9.3 million households in rural areas. It is a decisive factor in poverty alleviation contributing to economic development and political stabilization. However, recent difficulties and challenges have put the industry under urgent need of restructuring.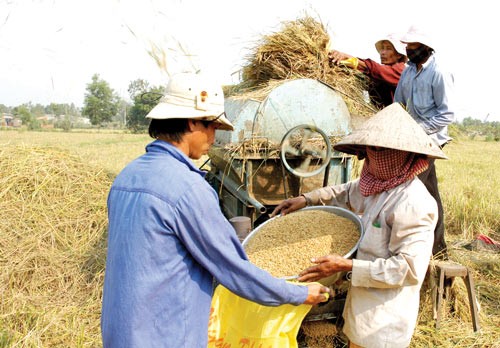 Rice harvest in the Mekong Delta (Photo: SGGP)
Achievements in productivity and output improvement have taken Vietnam from a rice import nation to the world's leading rice export country. At present, it contributes over 20 percent to the world's rice export volume.
However, the industry has recently showed a number of limitations comprising low effectiveness and competitiveness in the aftermath of excessive farming area expansion.
Rice quality is not high and processing is limited now while farmers' income is still low and inappropriate with that of traders and businesses.
Rice production has still negatively impacted environment for using many resources and abusing fertilizers and pesticides in intensive farming.
One of major reasons for the above limitations is slow changing institution and relevant policies which have failed to meet objective requirements in the rice industry's development.
Besides, business environment has yet to create a fair playground to sides involved in rice production and trading. Growers have produced over small scales and been in disadvantageous condition. The role of cooperatives is limited while businesses have just attended the final phase of the rice value chain without much attachment to farmers and paid little attention to their interest.
Therefore, institutional reform is necessary to develop rice value chain, encourage and attract attendance of private investors to create a breakthrough for the rice industry in the upcoming time.
Creating fair playground
The Government's Decree 109 on rice trading and export requires businesses to have at least one warehouse stockpiling 5,000 tons of rice, one milling establishment with a capacity of 10 tons per hour in rice farming provinces and cites or those with seaports for export.
The decree has eliminated small businesses for failing to meet requirements on warehouse and milling facilities without regard to those with high export value and quality. It has also brought large companies more power.
The decree imposes 0 percent value added tax on export rice but 5 percent on locally produced and consumed rice.
According to statistics by the Ministry of Agriculture and Rural Development, 5 percent tax imposed volume accounts for only 15 percent of total rice produced locally, the rest has been purchased by traders and not taxable.
This has discouraged businesses to cooperate with farmers in rice production to create high-quality products.
The Vietnam Food Association (VFA) has been established to gather and link rice growers, processors, traders and exporters together. It has a great power and influence on businesses.
Ninety eight percent of the country's rice export turnover has been shipped by the association's members. The Government has directly assigned VFA to implement policies to ensure food security.
VFA has been empowered to manage export activities, allocate 80 percent of rice export volume among its members, announce floor prices to create a basis for businesses to negotiate and sign contracts, update data from related agencies and join in rice stockpiling program.
The association has skipped some important roles such as building development strategy for the rice industry, advertising brand names, developing local supply sources and value chains.
Policy, institution reform
A large scale paddy field in Hau Giang province (Photo: SGGP)
Because of just focusing on export, VFA has directed its members to purchase rice via traders rather than invest in long term plans to create specialized rice production zones.
Surveys in localities show that the effectiveness of the rice stockpiling program is not high as it has mainly benefited traders, who have purchased at low price and resell at high prices, not farmers.
There are some chains linking input materials up to production and consumption such as large scale paddy fields. However, this model has accounted for only 5 percent of total rice farming area.
Cooperative economic organizations have failed to lure the positive attendance of farmers, mainly supplied irrigation services and played a small role in connecting farmers and businesses.
To improve rice business environment, it is necessary to boost value chains, assist businesses to innovate equipment and technologies, build brand names and transfer from over-the-counter trading into building investment partnership agreements with importers.
Implementation of Government contracts should be put out to tenders to create fair competitiveness among businesses.
VAT rates should be same at 0 percent or 5 percent for both export and locally consumed rice. Otherwise, it should be kept unchanged at 5 percent on local rice, export items will pay a fee, whose revenue will be used for building and upgrading warehouse system and broadening large scale paddy fields.
Authorized agencies should have policies ensuring fairness to all sides attending the rice value chain.
Development of new style cooperatives should be encouraged to connect rice production with trading. The cooperatives will stand for farmers to sign contracts with businesses, organize agricultural material supply and stockpiling services, find consumption sources to reduce costs and increase profit for each farm household.