Vietnam's tra fish (catfish) export to the U.S. will face stricter barrier because of U.S. change in seafood import control agency, which experts forecast heavier loss to Vietnam than that from anti-duping tax imposed by the U.S. Department of Commerce.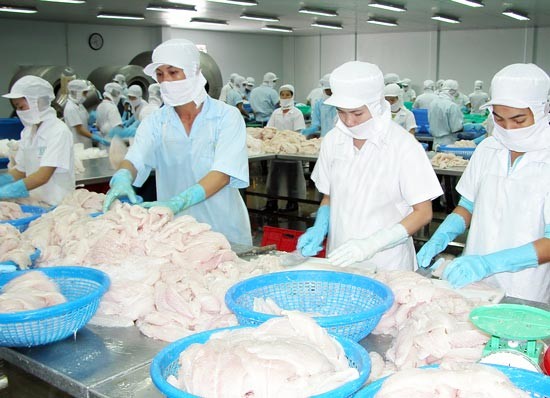 Basa fish processing at a plant in Dong Thap province (Photo: SGGP)
According to the U.S. Farm Bill 2014, the Food Safety and Inspection Service (FSIS) will replace the U.S. Food and Drug Administration (FDA) to control locally farmed or imported catfish belonging to order Siluriformes including Vietnamese tra and basa fish.

The change creates stricter than before requirements to Vietnam's tra fish. Specifically, the product will only be imported to the U.S. if related sides can prove the farming similarity between Vietnam and the U.S.

Mr. John Connelly, chairman of the U.S. National Fisheries Institute, said that regulations by FDA have been strict with about 300 pages but new regulations by FSIS will be stricter and more detailed with thousands of pages.

These two agencies also apply different standards on Hazard Analysis Critical Control Point (HACCP).

FDA has reviewed import procedures within only one week, FSIS will need more time to control more phases from breeding fish, feed, antibiotic residue, and transport to delivery date and label. These will increase input costs to breeders.

In addition, American importers will have to fully meet FSIS requirements, for instance they must have particular equipment to process added value products of tra fish, putting heavier financial burden. Product quality control must be implemented until goods are delivered to consumers.

According to Mr. Connelly, it will be difficult to prove the similarity in short time, there has no Southeast Asian nations able to meet this requirement immediately. Formerly, it averaged eight years for China and other ASEAN nations to get FSIS reorganization on the similarity of their pork and poultry products.

The new pact will take effect since March next year or 90 days after it was announced in December this year. Transitional period will be 18 months. FSIS regulations will be absolutely applied from September 2017.

However, catfish products will be put under surveillance of this agency from March next year and Vietnam have to send a list of businesses that have exported to the U.S. or will do so before March 1. In the transitional phase, they will have to fully meet requirements by FDA.

From now, the Vietnam Seafood Exporters and Producers Association (Vasep) and the Ministry of Agriculture and Rural Development need experts and lawyers to prove the similarity, he said.

Neither Vasep nor businesses are fully aware of FSIS regulations and they have only two years to prepare for the fully applied pact.

Director of Cadovimex 2 Company in Dong Thap province Nguyen Buu Phuoc Huy said that it was too short for businesses to meet the new requirements.

The U.S. is the second key export market of Vietnamese tra fish after the EU with 20 percent of its total export volume equivalent to US$300 million.

Since the 2000s, the U.S. mudfish association won a lawsuit against Vietnamese exporters when DOC decided to impose anti-dumping tax on tra and basa fish. Since then, they have consulted breeding cost of a certain nation for a basis to consider the tax level on Vietnamese products every year.

Despite of suffering many disadvantages such as a ban on using catfish name, high anti-dumping tax rates and deposit making requirement at banks, Vietnamese businesses have overcome to enter this market. However the number of exporter has reduced.

The nature of these as per Mr. John Connelly is to discourage Vietnamese exporters and American importers with the final purpose of limiting the volume of Vietnamese tra fish fillet to U.S. market.