The US-based Cummins Power Generation (CPG) recently signed a contract with Vietnam 's Truong Loc and Nguyen Huy Companies to provide electric generators and energy solutions for the Vietnamese market.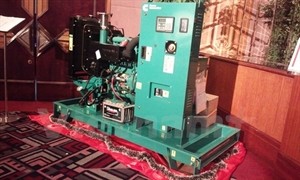 Generator manufactured by CPG (Source: VNA)
This was part of the corporation's efforts to expand operations in Vietnam, its priority market in the Asia-Pacific region, said a representative from CPG's distributor in Vietnam – Cummins DKSH at the singing ceremony.
It's time for CPG to expand operations in Vietnam as the country is emerging as a rapidly growing economy that is more attractive to investors, according to Hubert Goodman Jr, Cummins DKSH General Director for Southeast Asia .
CPG is a leading world provider of power generators with its network covering over 190 countries and territories.
In 2014, its revenue from power generators in the Vietnamese market is expected to hit US$ 16 million, US$ 2 million more than last year.