The 8th session of the 13th National Assembly passed 18 draft laws, inflation rate was recorded at the lowest rate ever for the last 13 years, Gross Domestic Product (GDP) grew beyond expectations, and petrol prices reduced 19 times. They are among outstanding economic events this year.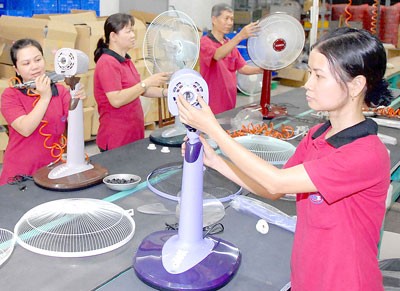 An electric fan plant in HCMC (Photo: SGGP)
1. NA passed 18 draft laws
The 8th session of the 13th National Assembly is a peak legislative session with 18 draft laws and three resolutions having been approved. The NA also gave opinions on another 12 law projects and several framework acts to improve the organization modals and apparatus of legislative, executive and judiciary bodies and create momentum for the socialist-oriented market economy.
The NA also spent much time listening to and debating socioeconomic conditions and the state budget; passed a resolution on socioeconomic development in 2015 with tight requirements on budget management and spending, public debt management and anti-corruption and waste.
2. Experts interested in public debt
According to public debt strategy, public debt should not exceed 25 percent of the budget revenue annually. However, it approximated 26.2 percent in 2014.
Although Prime Minister Nguyen Tan Dung affirmed that it was within permissible level, economic experts expressed concern over payment ability amid the increasing overspending of the state budget and down direction of petrol prices which will make public debt heavier.
Public debt has been stable at 55 percent GDP since 2010 but it is expected to increase to 60.3 percent GDP by the end of this year, quoted experts.
3. Record low inflation and beyond expectation GDP
Vietnam's inflation rate in 2014 was 4.09 percent, the lowest rate ever for the last 10 year and 2.91 percent lower than the NA norm of 7 percent. Several experts said the inflation rate did not drop in a positive and expected way because of down aggregate demand.
The country's gross domestic product (GDP) this year is 5.98 percent, higher compared to 5.42 percent last year and the NA target of 5.8 percent.
4. Export highlights
Export turnover hit the record of US$150 billion for the first time. The ratio of export turnover per GDP reached the highest rate ever approximating 80 percent, belonging to the world top five.
Average export turnover is estimated at US$1,655 a person, the highest ever. Export growth exceeds 13.5 percent, 2.2 times above GDP growth rate.
Twenty one items recorded the export turnover from US$1 billion or higher. For the first time, two items saw the turnover topping US$20 billion each.
Export structure has moved in a positive direction. The ratio of raw materials or preliminarily processed items reduced from 49.7 percent in 2005 to below 30 percent this year, and the ratio of processed or refined items increased from 50.3 percent in 2005 to over 70 percent.
5. Petrol price reduced 19 times
The plunge in the world crude oil price has cut down domestic petrol prices 19 times this year with the total reduction of VND7,000 a liter.
It has raised concern about budget revenue reduction from crude oil exports. According to the Government's calculations if the crude oil price drops US$1 a barrel, the state budget will lose VND1 trillion (US$46.73 million). In 2015, if the price falls to US$80 a barrel, the budget will lose VND20 trillion (US$934.6 million).
6. Administrative reform advances
Thousands of administrative procedures have been cut to create a free business environment and reduce operation costs for businesses.
The Prime Minister has instructed to continue cutting down 50 percent of hours to do tax procedures and strive to lower it to the average time in ASEAN.
7. Big M&A deals
2014 witnessed several big Mergers and Acquisitions (M&A) deals in Vietnam. Of these, Masan Group bought 49 percent shares from it rival Cholimex Food, Standard Chartered Private Equity invested US$90 million in An Giang Plant Protection Company.
Thai BJC Group spent US$879 million to purchase Metro Vietnam, Japanese Creed Group pledged to invest US$30 million in NBB Investment Corporation. The latest deal is conducted by U.S. Mondelez International Group who paid US$370 million for the bakery part of Kinh Do Company. Earlier Kinh Do purchased 24 percent shares of Vietnam Vegetable Oils Industry Corporation (Vocarimex).
8. Initial assistances for fishermen
The Government has issued a decree on seafood development with many incentives in taxes, insurance and credit for fishermen to buy new iron shell vessels.
Fishermen will be assisted to build new iron vessels while vessel owners will be helped build logistics vessels, which will supply fishermen with fuel and other necessities and purchase their products so that the fishermen can stay longer at sea.
9. Controversial Long Thanh International Airport project
Long Thanh International Airport with an expected fund of US$18.7 billion has been discussed amid quickly increasing public debt and met with controversial opinions from NA delegates, experts and domestic and oversea residents.
On the sideline of the 8th session of the 13th National Assembly, Deputy Prime Minister Vu Van Ninh affirmed that the implementation of Long Thanh airport project is necessary to ease pressure for other airports. Meantime scientists have worried about the necessity of the project due to unpersuasive data and possible impacts on the state budget and public investment.