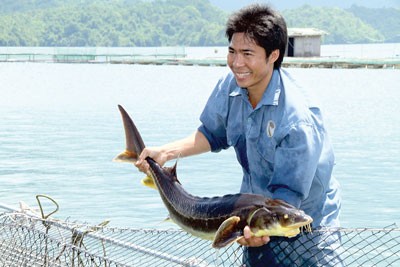 Sturgeons are bred in Da Mi Lake in the central province of Binh Thuan (Photo: SGGP)
After media reports of sturgeon being smuggled from China into Vietnam and further transported from North to South by air, the Ministry of Agriculture and Rural Development ordered its subdivisions to tighten control over smuggling and its transportation methods.
Loopholes in quarantine procedures have been overlooked and smuggling of sturgeon into Vietnam through the Chinese borders has been on for a long time.
Nguyen Nhat Huy, a sturgeon agent in Ho Chi Minh City, said that the City is an important market for the fish. He sells 10 tons of sturgeon a month, but after media reported adversely, the volume dropped with customers doubting the origin of the fish.
Le Anh Duc, Chairman of Vietnam Sturgeon Group, said to main markets in Ho Chi Minh City, Hanoi and some Southern cities, traders have to transport by air; hence quarantine stations in airports will prove effective.
Local breeders don't feel threatened by Chinese sturgeon as long as there are clear markings of origin on the fish.