Australia's Qantas returned to the air Monday, hours after a government tribunal ordered an end to a destructive industrial dispute that grounded its fleet and sparked passenger and political fury.
The first Qantas aircraft to fly in nearly two days took off around 0300 GMT, from Sydney bound for Los Angeles, after the shock grounding of planes and a staff lockout that left nearly 70,000 passengers stranded worldwide.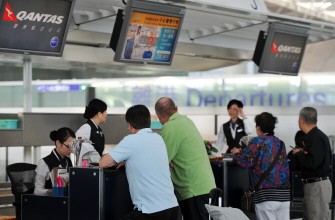 Travellers listen to a ground staff (3rd-R) at a Qantas counter at Hong Kong International Airport on October 31, 2011.
Investors hailed the resumption of services and the end to months of strikes and industrial action by baggage handlers, engineers and pilots, sending the airline's share price soaring by 5.5 percent.
Qantas chief executive Alan Joyce vowed "a safe and phased approach" to allow a full resumption of the airline's disrupted schedule by Tuesday.
"We will be doing all that we can to put things right," he said, playing down any long-term damage to the "Flying Kangaroo" brand and vowing to press ahead with an Asia-focused restructuring that has infuriated the unions.
But anger among passengers left adrift by Joyce's decision to ground the Qantas fleet remained strong.
Newlyweds Ciaran and Patricia, 33 and 34 respectively, were en route to Australia from Ireland for their honeymoon but were stuck at Hong Kong airport with no news of when they might be able to travel.
"This is a disaster. We are angry, big time. We had to throw all our plans out the window," Ciaran told AFP, declining to give his surname.
"I don't think we will fly Qantas again. They should have given us more help with the arrangements," he said.
The iconic 90-year-old flag carrier, the world's 10th largest airline by traffic, stunned the nation when it announced Saturday its shock decision to ground all aircraft in a bid to end the acrimonious labour row.
In a desperate bid to limit economic damage, Prime Minister Julia Gillard took the rare step of asking the industrial regulator to step in to end the action.
Fair Work Australia ordered a complete end to industrial action by both sides in the early hours of Monday following a marathon hearing.
It could have opted to suspend strike action for as long as 120 days so talks could take place, a move favoured by unions, but instead came down in favour of Qantas which wanted permanent termination.
The move leaves Qantas and the three unions, locked in dispute over pay and Qantas's plans to refocus its international business on Asia, 21 days to hammer out their differences or face a compulsory arbitration decision.
Joyce welcomed the decision, but defended his action, saying he had no choice after a union leader threatened rolling strikes for a year. Qantas says industrial action has already cost it Aus$15 million (US$16 million) per week.
"The important thing is that all industrial action is now over and we have certainty -- certainty for our employees, certainty for our customers, certainty for our shareholders," Joyce told reporters.
"It is a fair, reasonable and rational process, all parties will be treated equally," he said, pledging to abide by any binding decision imposed by Fair Work Australia.
Unions were disappointed. Transport Workers Union secretary Tony Sheldon said his union would abide by the Fair Work decision but was considering appealing it.
"If the company negotiates in good faith, which is what we're expecting the company to do, the next 21 days we will not be taking industrial action," he said.
Joyce said he did not believe the grounding would have a lasting impact on Qantas's brand or spark a long-term flight of its passengers to other airlines.
"I have every confidence that we will recover back to a 65 percent domestic market share and recover internationally," he said.
But Gillard and senior ministers were angry that the entire Qantas fleet had been grounded on a busy weekend ahead of the Melbourne Cup horse race and while Australia was hosting the 54-nation Commonwealth summit.
"I believe that that action by Qantas was an extreme action to take. It has caused chaos for the travelling public and Qantas had other options available at its disposal," the prime minister said.
Defence Minister Stephen Smith said of the Qantas grounding: "I don't think it's been very helpful for their own reputation.
"It came as a bolt out of the blue. You would have to ask Qantas what was in their minds when they decided on Saturday to disrupt all of Australia and he Australian travelling public overseas."