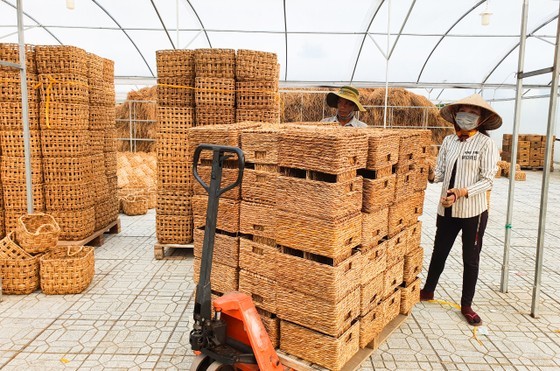 Scirpus littoralis-based products for export. (Photo: SGGP)
The Mekong Delta is experiencing increasingly severe weather patterns as a result of climate change. The benefits that were once derived from the alluvial deposits of the Mekong River and the area's abundant natural aquatic resources are no longer guaranteed. Therefore, the entire society needs to join hands and take action to adapt to climate change and promote development.
From growing Scirpus littoralis
Scirpus littoralis is a type of grass that naturally grows in wetland areas, but recently, it has been widely planted by many shrimp and crab farmers in the coastal areas of the Mekong Delta. "Scirpus littoralis - Shrimp and Crab" is currently a new production model that is well adapted to climate change in areas that are frequently intruded on by saltwater.
Tran Van Mat is a pioneer in planting Scirpus littoralis in Hoa Tu Commune, My Xuyen District, Soc Trang Province. During a visit to the lush green Scirpus littoralis field, Mat shared that the plant is incredibly easy to cultivate without the use of fertilizers. A plot of 1,000 square meters of Scirpus littoralis can yield approximately 1 ton of dry material, which is purchased by knitting cooperatives at VND6,000 per kg. With two crops harvested annually, growers can earn around VND12 million, a better income compared to rice, not to mention the revenue from shrimp and crab farming. Mat's desire to cultivate plants suitable for saline intrusion and raise shrimp and crabs led him to search for Scirpus littoralis seeds in Ca Mau Province for trial planting. Thanks to his determination, the Scirpus littoralis plant has taken root in coastal lands frequently affected by saltwater intrusion. Coastal residents in the Mekong Delta favor this plant because it adapts well to shrimp and crab farming and has better salinity tolerance than rice. Notably, the plant grows well at salinity levels ranging from 5 to 10 per mille, which is also suitable for the habitat of shrimp and crabs.
Dr. Duong Van Ni, an expert on wetlands at Can Tho University, is passionate about the "Scirpus littoralis - shrimp and crabs" model, which he considers a completely natural approach. This model allows farmers to select plants and animals based on the land and water conditions without conflicting with existing local farming practices. The Scirpus littoralis plant creates a favorable ecological environment, providing a natural food source that accelerates the growth of shrimp and crabs. Compared to traditional farming methods, this model reduces the incidence of diseases by 30 percent.
Due to its resilient and small stalks, the Scirpus littoralis plant is ideal for various handicraft products like handbags, fashion hats, and decorations, which are favored in foreign markets. Mr. Nguyen Van Toan, the Director of MCF Knitting Cooperative in My Quoi Commune, Nga Nam Town, Soc Trang Province, initially started with only 30 knitters in the cooperative. However, within only a year, it has expanded to include 400 people. In 2022, the cooperative produced nearly 30,000 Scirpus littoralis-based products for export.
To the chain of production and consumption
The Ministry of Agriculture and Rural Development reports that the Mekong Delta region boasts over 1,500 agricultural, forestry, and fishery cooperatives, comprising 11.8 percent of the country's total cooperatives, as well as 17,000 cooperative groups in the agriculture sector, representing 26.7 percent of the entire country. Notably, major enterprises have invested in the development of production and established sustainable linkages with farmer households, creating a chain that connects the production, processing, and consumption of agricultural products. The adoption of scientific and technological advancements in production has become increasingly prevalent, resulting in significant achievements, particularly with the widespread implementation of the Fourth Industrial Revolution, which has yielded positive effects. Encouragingly, localities have introduced natural farming models that integrate farmer and business associations.
Mr. Tram Minh Thuan, the Director of Long Hiep Agricultural Cooperative in Tra Cu District, Tra Vinh Province, stated that when the cooperative was established five years ago in 2018, numerous studies were conducted on new rice farming methods, including the wet-and-dry-land rotation technique for rice. This is an intelligent and water-saving approach to cope with prolonged salinity and freshwater scarcity for irrigation. The cooperative applies techniques such as constructing banks, creating smart trenches in the field, and employing appropriate fertilizer application based on the rice plant's growth stage. At present, the cooperative is collaborating with its members to construct a model for shrimp farming combined with organic rice farming in a 30-hectare area. The area is surrounded by dikes to prevent saltwater intrusion and store freshwater, making it suitable for farming black tiger shrimp and giant freshwater shrimp in combination with rice, producing safe and natural products while maximizing aquatic resources. By growing rice in shrimp ponds, the cooperative can use the available straw as food and shelter for shrimp, thus promoting shrimp growth.
The local government has supported the construction of salinity measurement points at major sluices and estuaries through various projects, as well as the development of a sluice system to prevent saltwater intrusion and store fresh water. These efforts enable farmers to take proactive measures when saltwater encroaches into farming areas.
"The effectiveness of the climate change adaptation model in the drought season is evident in the improved rice production efficiency and fishery resources. The cooperative purchases rice from farmers at a price VND500 per kg higher than the market rate, and the profitability of farmed seafood has tripled compared to the past," Mr. Tram Minh Thuan commented.
He further explained that the combined rice-shrimp model is a convenient solution for cooperative members and farmers who cultivate near large estuaries, which often suffer saline intrusion and are challenging for growing three rice crops. This model promotes the acceptance of transformation among members and the joint construction of a standard rice growing area and aquatic resources to increase the economic value of the products. Currently, the agricultural production area under consumption contracts accounts for 10-30 percent of the total area in the Mekong Delta provinces and cities, including Long An, Tien Giang, An Giang, Tra Vinh, Hau Giang, Kien Giang, and Dong Thap.
The districts of Giong Rieng, Hon Dat, and Tan Hiep in Kien Giang Province are well known for their organic rice cultivation, with orders coming in from various large rice enterprises such as Loc Troi and Trung An. In addition, farmers in Kien Luong, Ha Tien, Giang Thanh, An Minh, An Bien, Vinh Thuan, and U Minh Thuong have partnered with companies like Trung Son, Minh Phu, BIM, and Ha Long to adopt high-tech shrimp farming techniques. Duong Van Hung, a 67-year-old farmer who rotates 4 hectares of shrimp and rice in An Minh District, is excited that farmers no longer have to worry about stagnant agricultural product consumption thanks to partnerships with enterprises. Companies place orders and provide materials, seedlings, breeding, and guidance for breeding and cultivation, allowing for direct transport of products from fields and ponds to factories for export during harvest time. Farmers are guaranteed profits of 25-30 percent, sometimes even reaching 40 percent, providing them with confidence that farming can be a lucrative occupation.
Practical experience needed
Dr. Duong Van Ni, a professor at Can Tho University, noted that many people perceive climate change as an overwhelming and daunting challenge, which has resulted in a reluctance to take risks. This reluctance has contributed to a dearth of technical solutions, implementation experience, and supportive mechanisms and policies. Despite numerous discussions and seminars on the topic of climate change in the Mekong Delta, what is urgently required is practical experience.