Logistics has seen a year on year increase of 40 percent in demand for human resources this year becoming the second hottest field after information technology, reported Mr. Tran Anh Tuan, deputy director of the Ho Chi Minh City Forecasting Center of Manpower Needs and Labor Market Information.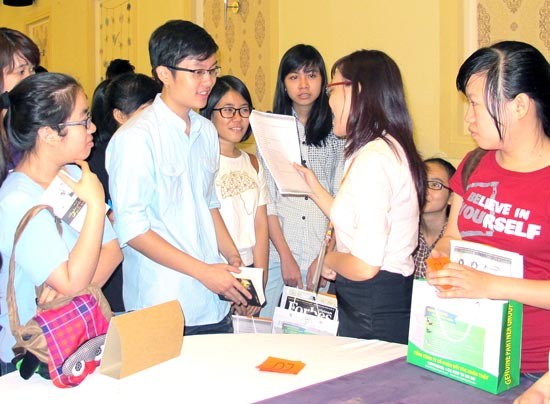 Students learn about logistics at a contest in HCMC (Photo: SGGP)
Over 83 percent of vacancies offer a salary of VND5-10 million (US$223-445), he added.
At least 300,000 firms have operated in the logistics industry so far and 1.5 million people work in this field nationwide which HCMC accounts for 40 percent.
Notably, logistics industry has taken the lead in HCMC in recruitment demand with a sudden increase of 66 percent at the end of this year.
Businesses need a lot of employees for positions such as document and customs procedure staff, logistics operators, purchasers, warehouse managers and assistants, drivers and delivery men.
According to the center, economic industries including logistics need up to 25,000 workers from now until 2020.
However local human resources have met only 40 percent demand of the logistics industry. Thousands of businesses have found difficulties in recruitment in this field, Mr. Tuan said.
Mr. Tran Chi Dung from the Vietnam Logistics Research and Development Institute said it a challenge for Vietnam to train tens of thousands of logistics workers within the next 10 years to meet the industry's development demand.
At present, social awareness of logistics is not high. Most students and workers do not have specific notions of this field and schools lack experiences in logistics training organization and management.
Surveys show that large universities such as HCMC University of Economics, Vietnam Maritime University in Hai Phong city and Hanoi headquartered Foreign Trade University have not had regular training major in logistics.
Mr. Tuan said that universities and colleges have not paid attention to logistics training and failed to meet practical human resource demand. Over 80 percent of businesses have trained their staff themselves without long term human resource development strategy.
The Vietnam Logistics Research and Development Institute said according to businesses' estimation, current logistics human resource is at medium level in professional skill, foreign language and information technology.
Mr. Dung said it an alarming reality and the distance between schools and businesses should be shortened to develop this field with specific plans.
Logistics industry posts an annual growth rate of 25 percent and contributes to over 20 percent of Vietnam's gross domestic product, he added.