Although soybeans and cashews have large consumption market; and the quality of domestically-grown variety is acknowledged much higher than that of other countries, the area of these two industrial plants has dropped drastically that processing plants have to import them to meet the demand.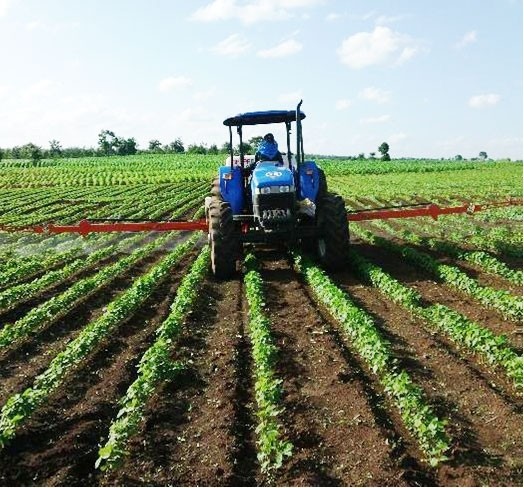 A soybean field in Cu Jut District in Dak Nong Province. (Photo: SGGP)
Vietnam is the world's third largest soy milk consumer after China and Thailand with 613 million liters per year and the world's seventh largest per capita with 6.8 liter per capita per annum, according to AC Nelsen Vietnam.

According to the Ministry of Agriculture and Rural Development, soybean is among four key cultivars of the country's agriculture. However, the area of soybeans has lessened gradually.

Mr. Ngo Van Tu, CEO of Vinasoy whose product accounted for 83 percent of market share, said that most of local-grown soybeans were made into various kinds of traditional and modern soybean foods. Because it does not take much time to transport domestically grown soybeans to processing plants, they are much fresher than imported ones. In processing, fresh soybeans produce best products. More importantly, thanks to prominent properties of Vietnamese soybeans, products made from them still keep the specific aroma of soybeans.

Besides Vinasoy, Vinamilk and Nutifood have also started to produce soy milk. The fact that more and more businesses invested in soy industry has caused the demand for soybeans to strongly jump. Soy milk processing capacity alone surged by 53 percent from 400 million liters per annum in 2010 to 613 million liters per annum in 2014. However, according to the Cultivation Department, soybean variety is the weakest link as Vietnamese soybean yield of a crop is merely at 1.4 tons per hectare while global soybean yield reaches 5 tons per hectare. Although local scientists created some soybean varieties that produce around 2 tons per hectare, when they were grown in large scale, they did not give results as expected.

Domestic cultivation of soybeans merely met 7 percent of local demand, mainly for producing soy milk and other soybean foods. Thus, companies have to import soybeans to fulfill the rest 93 percent of demand which is mostly for animal feed production. In the first nine months of this year, the country imported 1.2 million tons of soybeans, equal to the soybean imports in 2014.

Farmers neglect soybeans because of decreasing productivity, unstable consumption, and low price. The area of soybeans continuously drops nationwide. Figures show that the area of soybeans was 111,200 hectares in 2014, a decrease of 6,000 hectares compared to the previous year; productivity was 1.43 tons per hectare, down 0.1 tons per hectare; and production was 160,000 tons, down 4.6 percent.

Mrs. Vu Thi Hong Hanh, a soy farmer in Dak Nong Province's Cu Jut District, said that she and other soy farmers all want to abandon soybeans to shift to other lucrative cultivars. In comparison to other industrial plants, such as coffee, pepper, cassava and corn, soybean has poor competitiveness while productivity is low yet decreasing.

The Central Highlands of Vietnam, mainly Dak Nong and Dak Lak provinces, has perfect soil for growing soybeans which gives soybean yield up to 1.8 tons per hectare. However, the area and production of soybeans falls steeply. Although domestically grown soybeans are sold at around VND18,000-20,000 per kilogram, higher than imported ones that are sold at VND15,000 per kilogram, soy farmers do not earn much from growing soybeans as its cost price is fairly high, of above VND16,600 per kilogram.

This is similar to cashew trees. The Vietnam Cashew Association had to coordinate with the Ministry of Agriculture and Rural Development to select high-yield cashew variety for grafting in order to raise productivity to above 2 tons per hectare so as to maintain the area of cashew.

As for soybeans, after two years of research, Vinasoy and experts from the US National Center for Soybean Biotechnology have collected about 300 local soybean varieties, of which, Cu-Jut-white-flower soybean variety shows several strong points, such as disease resistance and high productivity. This soybean variety has been grown in an area of 20 hectares in Cu Jut and Dak Mil districts in Dak Nong Province. Moreover, Vinasoy also coordinates with the US scientists to tackle other shortcomings in order to lower cost price.