Ho Chi Minh City real estate market has seen a high increase in supply of large area and high class apartments while small apartments suiting financial ability of most residents have been scarce.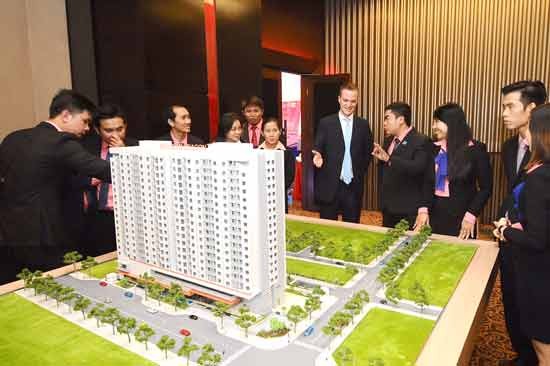 Customers learn about a medium price apartment project in HCMC (Photo: SGGP)

Mr. Do Binh working at Tan Binh Industrial Zone has attempted to seek an accommodation near his office. His family is affordable for apartments priced under VND1 billion (US$47,000) but purchase has not been easy because demand has far exceeded supply.

Director of the Department of Education and Training Le Hong Son said that their preliminary survey shows that the city has about 20,000 teachers in housing demand but their income is insufficient to practice that.

Although the Government has given many preferential policies to develop social housing including the credit package of VND30 trillion (US$1.33 billion), many teachers have been unaffordable for large scale apartments.

Deputy Director of Nova real estate company Bui Cao Nhat Quan said that the number of small apartments in each project is few but always in huge demand.

Director of Le Thanh Company Le Huu Nghia said that small apartments bring low profit discouraging investors. This type of apartments is also ineligible for getting ownership certificates.

Mr. Le Chi Hieu, chairman of Thu Duc Housing Development Company, said that they did know that a lot of residents have been seeking small apartments but development of this segment faces many unreasonable regulations.

Specifically he said that the Government has never had policies on building small apartments. Even the VND30 trillion credit package has just stopped at apartments of under 70 square meters with the price of less than VND15 million per square meters.

In 2012 when the real estate market was frozen, the Ministry of Construction permitted to divide large apartments into smaller ones to solve inventory but the permission lengthened only two years.

Meantime, HCMC has not permitted to do so in its 930 hectare center area, he added.

Mr. Le Hoang Chau, chairman of the HCMC Real Estate Association, said that inflexible regulations and planning has limited small apartments aiming to prevent population growth from overloading traffic infrastructure and allowed each apartment to have only four dwellers, resulting in unsold large scale apartments.

Afterwards, the Government applied a provisional measure to solve the issue by permitting businesses to divide unsold apartments into smaller ones.

The property market has been recovered with the strong growth of high class segment and the short supply of social housing and commercial apartments of small and medium area.

Inventory and bad debts have partly been solved but the city still has 500 half done or suspended projects.

According to Mr. Chau, overall solution needs to be built to develop the market sustainably. Of these, it is necessary to head towards supplying those in real housing demand with suitable products.