Foreign direct investment (FDI) capital in the real estate market is expected to approximate 30-40 percent of total registered capital in Vietnam next year, said former Vice Minister of Natural Resources and Environment professor Dang Hung Vo.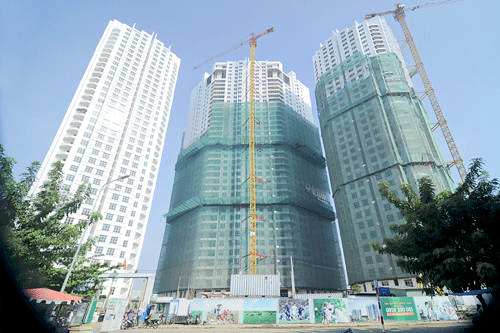 A property project in HCMC (Photo: SGGP/Financial Investment)

In a recent interview with Sai Gon Giai Phong's Financial Investment, he said that FDI capital registered in the real estate reached US$2.32 billion for the last 11 months, double it in the same period last year and accounting for 11.5 percent of total.

Real estate was the third most attractive field after manufacturing and processing and electricity production and distribution with 29 new projects and 10 capital increase projects.

Notably were some huge projects with capital hitting billions of US dollar in Ho Chi Minh City.

Vietnam's fast urbanization in recent years has made the real estate market more attractive to foreign investors. Urban by rural ratio nears 30/70 now and will be 70/30 when Vietnam becomes an industrial nation in the upcoming time.
Supply in the market has been able to meet 10 percent of targets in the current housing development strategy.

Foreign investors are forecast to continue this year momentum pumping more capital into the real estate market, which has positively recovered, next year.

Real estate FDI capital is likely to account for 30-40 percent of total, equal to the peak time in 2007 when it reached 40 percent. The market then fell in to a recession in 2008.

The new wave of FDI capital pouring into the real estate market will activate M & A activities between local and foreign businesses. Many projects will have chance to revive after a long idle period.

At present, there has no mechanism for foreign investors to bring their gains home from Vietnam.

Similarly some investors have left properties in Vietnam as security at oversea banks to get long term capital and failed to pay their loans. The banks so have had to conduct compulsory sale of collaterals but there has no mechanism for them to take money from this activity home.

In addition, it is necessary to make clear which foreign currency and how exchange rate for foreign investors to transfer profits to their counties to boost FDI capital into the real estate market.