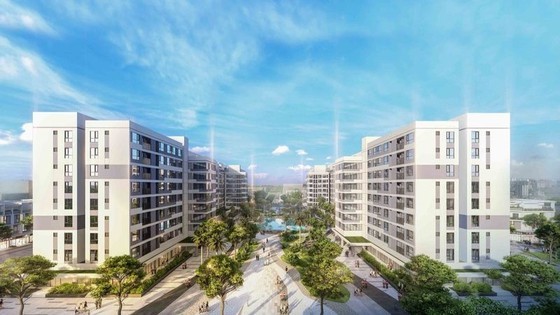 Vietnamese government will grant capital for social housing development from 2021 to 2030
The Government has just issued Resolution No. 33/NQ-CP on a number of solutions to remove difficulties and promote the safe, healthy, and sustainable development of the real estate market.
To support capital for social housing development, the Government decided to implement a credit program of about VND 20,000 billion (equivalent to about 12 percent of the capital needed to promote the achievement of the goal of completing at least 1 million affordable housing and workforce housing from 2021 to 2030).
Accordingly, investors and homebuyers of social housing and worker housing projects are eligible for loans with the low interest rate, which is about 1.5- 2 percent lower than the average medium and long-term lending interest rate of state-owned commercial banks including Agribank, BIDV, Vietcombank, Vietinbank in the market from time to time and non-state commercial banks.
The resolution focused on directing to remove difficulties and restoring the real estate market along with risk control by having appropriate policies to promote the market. It is hoped that low-income earners will have a chance to buy their own house thanks to the government's promotion programs of social housing, and workers' houses.
Along with that, the government will pay attention to the development of a safe, healthy and sustainable real estate ecosystem. The government will not tighten sources of credit, bonds, and securities unreasonably, but strengthen inspection and supervision while combining fiscal and monetary policies effectively and implementing a flexible, safe and secure monetary policy, a reasonable expansionary fiscal policy.
Last but not least, the government will focus on ensuring the effectiveness of the monetary policy and management of prices and markets.
The resolution sets out the goal of removing difficulties and obstacles, especially in terms of institutions, implementation organization and capital sources for the real estate market, in which to remove obstacles in legal regulations and procedures as well as continue the implementation of real estate projects, especially related to investment, land, construction, auction.
Additionally, it will remove difficulties in credit sources, bonds, and investment funds to open capital flows for the real estate market, contributing to liquidity increase for the market and the development of social housing, and housing for workers. The country strives to complete at least 1 million social housing apartments by 2030.
The resolution sets out the main tasks and solutions, including the improvement of the institution and promotion of social housing development.
Accordingly, the Government will submit a proposal to the National Assembly for consideration and promulgation of a Resolution of the National Assembly to pilot a number of policies for the promotion of the social housing development so as to immediately remove a number of specific difficulties and obstacles with the aim to create a driving force for the growth of social housing in the near future.
Regarding the credit capital solution, the Government has specified to create conditions for businesses, home buyers and investors to quickly access credit sources. Real estate enterprises will enjoy incentives such as rescheduling principal, and interest, and restructuring debt groups. The government will focus on feasible projects and loan plans, customers with financial capacity, ability to repay debt in full and on time. Real estate projects meeting the real needs of low-income earners with efficiency and good liquidity such as social housing, renovation of old apartments, offices for lease, real estate for production and tourism will receive top priority.
For corporate bond capital, the Government directed the implementation of capital mobilization including bond issuance activities of real estate businesses on the stock market in accordance with regulations while controlling the capital mobilization of real estate businesses on the stock market to avoid speculation, manipulation and price rigging.
The Government required related ministries, sectors and localities to step up the review and classification of real estate projects that are having legal problems. All property projects with legal hiccups must suspend from operation to free up land resources, and investment capital, and reduce the risk of bad debts; however, competent agencies must promptly help real estate developers to remove difficulties in implementing legal procedures for real estate projects.
The State Bank of Vietnam was assigned to consider and direct credit institutions to review and classify real estate projects in order to take appropriate solutions such as rescheduling of principal, and interest, restructuring of debt groups in accordance with the provisions of law, ensuring the safe operation of the banking system and efforts to reduce operating costs to have room to reduce lending interest rates for the economy, including homebuyers and real estate projects, contributing to removing difficulties in credit capital for businesses.