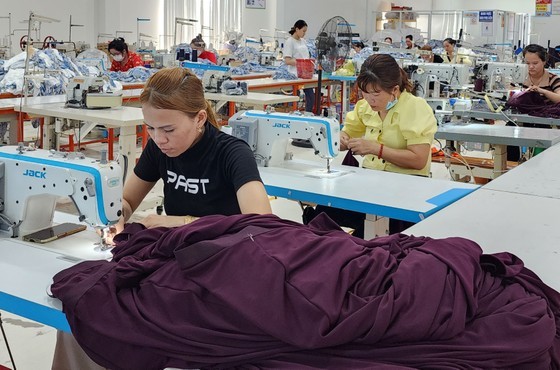 Thanh Dat Garment Co. Ltd. is urgently fulfilling its orders right at the beginning of the year. (Photo: SGGP)

Chairman of HCMC Mechanical and Electrical Enterprise Association Do Phuoc Tong commented that businesses in his industry encountered much trouble last year owing to a lack of orders. They good news is that some dare to expand their scale to prepare for new opportunities when both the national and international economies are stable again.
For instance, Duy Khanh Mechanical Co. Ltd. has constructed a new factory worth VND200 billion (US$8.5 million) for the new product segment to serve the domestic supporting industry and export purposes.
Similarly, Minh Viet Son JSC. resumed its work on the 6th day of the Lunar year in order to quickly fulfill its orders while setting a target of revenue increase by 15 percent this year. General Director of the company Le Van Loi shared that last year was a challenging time for all companies in the steel structure industry, and some went bankrupt. Nevertheless, this year is more promising as many Japanese counterparts have revealed their intention to invest in Vietnam.
Facing the same troublesome state in 2022 was the domestic textile industry owing to order scarcity as the global economy entered its depression period. Even though those difficulties still exist in 2023, many textile enterprises strongly believe in a recovery. They are now actively looking for new orders from the US and Europe, highly aware that such a lack of orders comes from a large inventory of processed garments there.
Chairman Le Tien Truong of the Board of Directors of Vietnam National Textile and Garment Group informed that the global economy in 2023 is predicted to be still unstable, and the total demand on textile products might come to $700 billion, a drop of 8 percent compared to 2022. This forces domestic companies in the industry to change their manufacturing structure from knitting fabric to woven one, along with diversifying their markets.
Forecasts show that the total demand will recover in the last half of the year, which means a great dependence of the annual growth rate on global economic signals in the first quarter of this year.
Another major factor that affects the development of the textile industry in Vietnam is the ability to proactively supply raw materials domestically. Right now, half of the material supply sources for garment processing is steady.
In the wood processing industry, Chairman Nguyen Chanh Phuong of the HCMC Association of Handicraft and Wood Industry said that in January 2023, the proportion of export orders for wood products of the country was only a half of this time last year.
In February, this percentage is expected to rise to 60-70 percent. As the inventory of wood products in the US is depleting, more orders from that country will come to Vietnam.
The situation will become even better when many wood-product-related festivals are held in various nations this March. That is a lucrative chance for domestic enterprises to receive orders from the US and European countries.