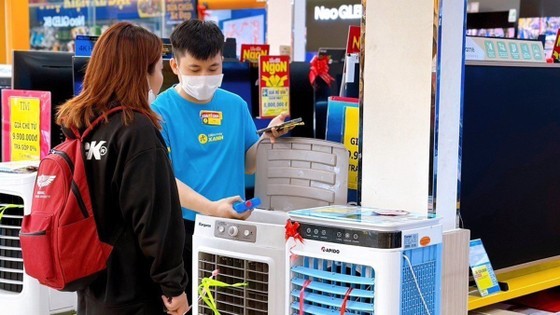 Customers browsing products at a Dien May Xanh store in Ho Chi Minh City.
Scarce customer footfall
During the weekend, the Cho Lon Electronics Supermarket located at Cach Mang Thang Tam in District 3 and other supermarkets in the same chain along Truong Chinh Street in Tan Binh District and Quang Trung Street in Go Vap District had only a handful of customers browsing. The number of visitors and shoppers is exceptionally low. "Previously, each employee earned over VND15 million per month, but now the base salary is less than VND8 million per month," shared M., a product presenter for a renowned electronics brand at the Cho Lon Electronics Supermarket.
Around 7 p.m. on weekends, at Nguyen Kim Electronics Supermarket located within Pandora Shopping Mall in Tan Phu District, there were only three adults and one child browsing the displayed TVs. A similar situation was observed at other branches of this supermarket chain on Quang Trung Street in Go Vap District, where the spacious shopping areas spanning thousands of square meters had only a handful of customers. After examining the product samples and checking the price of a one-HP air conditioner, Ngo Van Phu, who lives in Go Vap District, mentioned that his small home, situated in a deep alley, tends to get quite hot, so he was considering purchasing an air conditioner. The prices range from VND5.5 million to VND11.5 million per item, with discounts ranging from 5 percent to 26 percent compared to before, depending on the brand. "However, I still want to explore other electronics supermarkets before making a final decision," Phu said.
According to the supermarkets, there is a significant number of customers who browse products but refrain from making immediate purchases, similar to Phu's situation. The supermarkets have introduced numerous promotions and attractive discounts ranging from 5 percent to 40 percent, including support for installation, transportation fees, and complimentary vouchers. However, purchasing power has declined considerably by 30 percent to 70 percent compared to before the Covid-19 pandemic. Information from Nguyen Kim Electronics, Cho Lon Electronics Supermarket, and Dien May Xanh indicates that consumers are primarily focused on essential goods, causing high-value non-essential items like electronics to fall outside the priority basket for buyers, resulting in an increase in inventory levels.
According to statistics from the General Department of Vietnam Customs, the importation of completely built-up (CBU) cars has been declining rapidly since the beginning of May. The country has imported a total of 3,257 CBU cars of various types, amounting to over US$88 million. In contrast, during the first quarter of 2023, the country imported over 42,000 CBU cars, with a total value above $925 million. The latest update from the Vietnam Automobile Manufacturers Association (VAMA) reveals that in April, the overall car sales in the market reached 22,409 units, marking a 25 percent decrease compared to March 2023 and a 47 percent decrease compared to March 2022. Over the first four months of 2023, the total car sales in the market dropped by 30 percent compared to the previous year, with specialized vehicles experiencing a significant decline of 58 percent. The Ministry of Industry and Trade has highlighted that businesses are facing challenges such as high inventory levels and a sharp decrease in vehicle consumption. These issues can be attributed to difficulties in accessing bank loans, high interest rates, exchange rate fluctuations, and inflation.
Striving to wait
Several measures have been implemented by businesses, including staff reduction, downsizing store space, and offering substantial promotions to reduce inventory and sell additional household items like glasses and bowls. However, the results have been limited. In an attempt to address immediate challenges, Thien Hoa Electronics Supermarket, situated at the base of Tham Luong Bridge on the border of Tan Binh District and District 12, has recently closed down and announced the transfer of its premises.
Why are people visiting stores and supermarkets much less than before? According to explanations from some businesses in the electronics industry, one contributing factor is the change in the mindset of households. Before the Covid-19 pandemic, households were more inclined to proactively replace their appliances, such as TVs, refrigerators, and washing machines, after a certain period of use, rather than waiting for them to break down. However, the current economic situation, with the impact on incomes, has directly affected purchasing power. Furthermore, the growing popularity of online shopping is another reason why customers are opting for virtual stores instead of visiting physical ones.
Businesses indicate that it could take several more years for the market to recover its vitality, but these are merely forecasts. Confronted with immediate challenges concerning rent, employee wages, and inventory storage, businesses must calculate and strive each day. These difficulties are not exclusive to any particular industry in the current circumstances. However, if retailers cannot endure, and if the Government does not implement timely supportive measures, such as tax reductions and preferential interest rates, it will impact the entire economy.
Foreign products hold the upper hand
Currently, domestic electronics brands like Kangaroo, Alaska, Sunhouse, and Nagakawa have a relatively small market share compared to a range of foreign giants operating in Vietnam. According to business estimates, the market size of brands such as Samsung, LG, Sony, Casper, TCL, Toshiba, Sharp, Panasonic, and Electrolux in Vietnam is approximately $2.5 billion.