Amidst tightening of monetary policies by the State Bank of Vietnam in wake of the present inflation, banks have reduced loans to non-production sectors but strengthened lending for agricultural and rural development.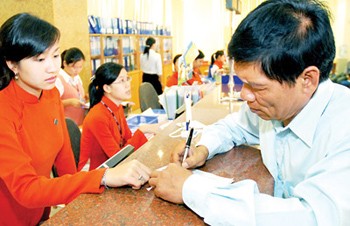 A farmer filling in forms to apply for a bank loan (Photo: SGGP)
Vietnam Bank for Agriculture and Rural Development (Agribank) increased loans and decreased interest rates by 2-4 percent per annum for the agricultural and rural development sector in the first 10 months of 2011.
By October 31, the outstanding loans for the agricultural and rural development sector moved up by 13 percent compared to the same period last year.
Agribank chairman Nguyen Ngoc Bao said his bank is striving to increase the lending ratio in this sector to 80 percent from the current 67 percent.

Some other banks have also offered loans for agricultural and rural development sector at a 1-2 percent lower interest rate than for other sectors.
Amongst the joint stock banks, Lien Viet Post Joint Stock Commercial Bank (LienVietPostBank) has so far lent over VND4 trillion (US$190 million) towards agricultural and rural development, accounting for 40 percent of its outstanding credit debt.
Nguyen Duc Huong, permanent deputy chairman at LienVietPostBank, said that the bank was an intermediary between farmers and businesses. His bank only offers loans to farmers and collects debt from businesses buying farmers produce. Agricultural loans are less risky because they are small-sized loans and easier to recover.
Le Duc Tho, deputy general director of Vietnam Joint Stock Commercial Bank for Industry and Trade (VietinBank), said that in the current financial scenario, lending to farmers and households in rural areas is fairly safe and stable.
According to Nguyen Van Binh, Governor of State Bank of Vietnam, agricultural and rural development will be given priority in the bank's credit policy next year as well.
As per the 2012 plan for socio-economic development approved by the National Assembly, the banking system's credit growth is set to be from 15 to 17 percent.
Besides agricultural and rural development, banks will offer loans to develop exports, support industry and small and medium enterprises. The State Bank will issue clear directives to commercial banks about lending policies to non-production sectors.
Proper monetary policies will be issued to banks with a majority of loans intended for agricultural and rural development. For instance, they might receive preferential policies related to their compulsory reserves or the State Bank could also refinance them.
The State Bank will assign Agribank as the main financial institute to implement this policy. 75-80 percent of lending has been assigned for the agricultural and rural development sector in 2012.