A wide range of activities will take place as from April 7 (the fifth day of the third lunar month) in the northern province of Phu Tho to commemorate the death anniversary of Hung Kings and celebrate the Hung Kings Temple Festival in 2011.
The activities will be jointly held by Phu Tho and five other provinces, namely Tuyen Quang, Hoa Binh, Nam Dinh, Quang Ngai and Dong Thap.

Incense offering ceremonies to the first rulers of Vietnam – the Hung kings and the legendary ancestors of the nation will be held on April 7, 8 and 12 with the main ceremony to be hosted by Phu Tho on April 12 (the 10th day of the third lunar month).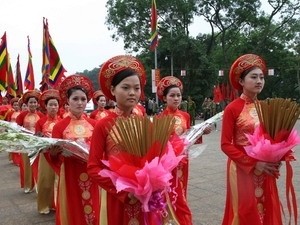 Incense-offering ceremony in Hung Kings Temple Festival 2010
The festival that will last from April 8-12 will include a lion dance, a Xoan singing (ancestor worship singing) festival, an exhibition of offerings to the Hung Kings and a contest on making the traditional "banh chung" (square glutinous rice cake) and "banh day" (rice cake).

Phu Tho province will also host an international seminar on "The worship of Hung Kings" as part of efforts to bid for UNESCO's recognition of as an intangible cultural heritage.

Legend has it that Lac Long Quan, who was a dragon, met and married fairy Au Co, who later gave birth to 100 eggs from which 100 children sprang forth. The couple then parted due to their different origins. The man went seawards with 50 of their children, while his wife went to the mountains with the other half of the clan. The eldest son, who followed his father, later installed himself as Vietnam's first Hung King and today's Vietnamese people are said to be descendants of those children.