The tiny village of Tra Cuon located along Highway 53 in Kim Hoa Commune of Cau Ngang District in the Mekong Delta province of Tra Vinh is famous for its savoury Tet Cakes, which is also a very lucrative business for many of its residents.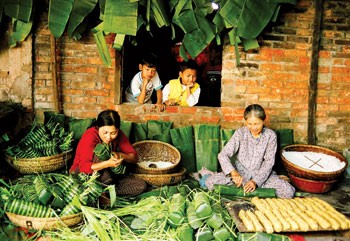 Tra Cuon Tet Cake has natural ingredients
Ahead of Tet Lunar New Year each year, hundreds of people work round-the-clock in small production units to make Tet Cakes (cylindrical glutinous rice cakes). Each production unit has about 20 people who cook, wrap and deliver the cakes to markets.
Thach Thi Tron, owner of a production unit says that Tra Cuon Tet Cakes are more delicious and tasty because of the good quality ingredients that are carefully chosen, from the quality of glutinous rice for making the cakes to the variety of banana leaves for wrapping them.
The stuffing inside Tra Cuon Tet Cakes is usually made of eggs of ducks that are allowed to openly feed off fields and meat of pigs that are fed natural feed.
Generations of families in Tra Cuon village have been making Tet Cakes. Tron and all her eight sisters learnt the skill from their mother, and now have a flourishing business of making Tet Cakes.
Mai Thi Ly, owner of one of the biggest production units in the Tra Cuon village said she travels every month to Hau Giang, Long An and Tien Giang Provinces to choose the best quality of sticky rice.
In her 4,000 square metre garden, she grows only one kind of vegetable called rau ngot (Sauropus androgynus). Ly explained that she uses the leafy vegetable for dying glutinous rice into a natural green colour and which also makes the cake more fragrant. Tra Cuon people don't believe in using artificial dyes for their cakes, she said.
Thach Thi Vui claimed that last year her unit made 100,000 Tet Cakes, earning her a net profit of VND600 million. She wants to produce about 150,000 cakes this year which will bring her VND700-800 million profit.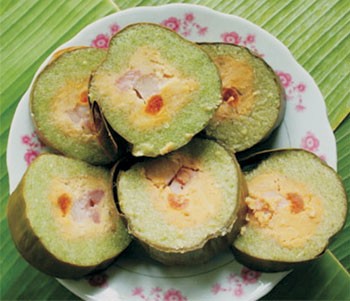 Tra Cuon Tet Cake has natural ingredients
According to Ho Quoc Dung, Chairman of the Kim Hoa Commune People's Committee, several households in Tra Cuon village have become rich by selling Tet Cakes.
68 percent of the population of the commune is Khmer ethnic minority and the total income of the commune is only VND600 million (US$28,500) annually. However, households making Tet Cakes enjoy an income that is 20 times higher.
Tra Cuon was recently recognized as the Tet Cake trade village by the provincial People's Committee.
The province intends to invest over VND1 billion ($48,000) to develop Tra Cuon Tet Cake brand, build wastewater treatment plants, train young people to make the cake, design better packaging and open a website for advertising the cake, Mr. Dung revealed.
Local residents hope that with assistance from the provincial and district authorities, they will be able to export Tra Cuon Tet Cake to other countries in the near future.