The American government has once again taken to judging other nations for international problems instead of working closely together with them in the spirit of friendship and cooperation.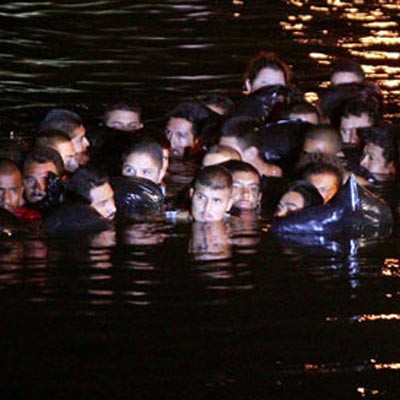 Mexicans are trafficked into the US. ICE estimates that 17.500 people a year are trafficked into the U.S for exploitation.
The US Department of State 2010 Trafficking in Persons report was released June 14, adding Afghanistan, Brunei, Laos, Maldives, Singapore, Thailand and Vietnam to its watch-list.
According to the U.S. State Department, these countries "do not meet the criteria for obliterating human trafficking by the U.S. State Department, especially their failure to prevent women from being coerced into brothels." Countries that remained on this list since last year include Bangladesh, China, India. The report pushed 23 countries up on it's list and downgraded 19 countries' ratings.
According to the report, an estimated 12.3 million people worldwide fell victim to human trafficking in 2009-2010, of which 56% were women and children. The report said women and children in many Asian countries are still being sold to China, Cambodia, Thailand, Korea, Malaysia, Indonesia, and Taiwan for sexual exploitation. Most have to work as modern slaves and are heavily in debt because they had to take large loans to pay for their "working" trip.
Vietnam has long made its best efforts to fight human trafficking. The United States Agency for International Development U.S. (USAID) has funded anti-trafficking projects in Vietnam, and according to UN experts, Vietnam has taken long strides in this struggle. The Government is nearly done implementing its 2004-2010 National Program to Combat Trafficking of Women and Children.
The program has focused on prevention of human trafficking, the prosecution of traffickers, victim protection and anti-trafficking policy promotion. The project has raised awareness that females are a high-risk group
Vietnam has also launched training initiatives to create jobs for poor women so they can avoid exploitation and deception. Vietnam has bilateral cooperation agreements to combat trafficking with Thailand, China and other countries. The Government of Vietnam is also working closely with other countries to establish frameworks for regional cooperation mechanisms.
Vietnam has made great anti-human trafficking efforts at the national and international level. By including Vietnam on its watch-list, the U.S. State Department has deliberately ignored the efforts Vietnam has made in the fight against human trafficking.
The international community of nations is uncomfortable with America annually taking the right to judge upon herself, scoring countries in all fields from democracy and human rights, to religious freedom and human trafficking. Instead of promoting multilateral and bilateral cooperation for international progress, these subjective judgments are not a good solution in the context of globalization today.
In particular, the issue of human trafficking is a problem not unique to any country. Hence, it should require close cooperation between countries rather than harsh criticisms and denunciations of each other. New figures released by State Department showed that up to 17,500 people are trafficked into the U.S. illegally each year and most of these are used as sex workers or forced laborers. Experts believe the actually amount of human trafficking in the US to be 5 times higher as much of it goes unreported.
Should Vietnam, or any other country, issue a report about this situation in the US?