Food security has been a sensitive issue for administrators and has been a major factor in curtailing Vietnam's rice exports.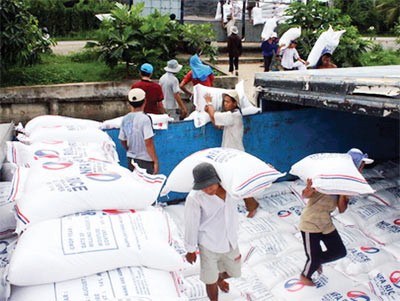 Rice loaded on a boat to transport to Ba Dac wholesale rice market in Tien Giang Province in the Mekong Delta (Photo: SGGP)
In mid-2008, when rice prices rose to US$700-800 a ton, firms were unable to sign export contracts because the Government had made a wrong forecast. When they were finally allowed to export, prices had fallen by half.

To ensure food security, a mechanism to store food is needed and the National Reserve Department should continue to manage the storage under the direct supervision of the Prime Minister.

After local demand is met and a certain volume of rice is put away in case of natural calamities, the remaining should be exported.

In the context of global climate change, the possibilities of a food shortage have increased, putting rice producers at an advantage.

Food corporations and their subsidiaries need to be equitized to facilitate rice exports.

Equitization will spur enterprises into doing business more effectively since otherwise they run the risk of going bankrupt.

Foreign companies should be allowed to buy and process rice in the country after complying with local regulations, a move that will facilitate exports.

The Vietnam Food Association needs to set up more institutions and agencies to manage farming in key rice-growing provinces.

Improving the overall management of the sector is important for collecting and analyzing information to forecast local and global prices and identify export markets so that farmers and rice companies can make plans in advance.

The Government only sets export targets based on harvests.

Farmers and enterprises should be offered soft loans to store rice and sell it when prices go up.