Dairy farmers in the northern province of Vinh Phuc have filed a class action suit against the Ministries of Health and Agriculture and Rural Development for failing to allay people's fears of melamine contamination in milk, thus affecting their livelihoods.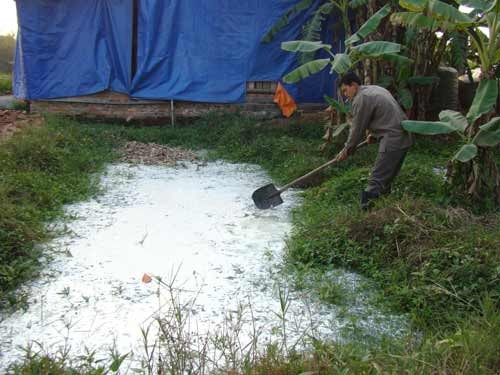 No consumers, farmers have to pour milk on pools, roads (Photo: VNN)
Dairy producer Hanoimilk is also upset with the ministries since the melamine scandal has caused it losses of tens of billions of dong (VND1 billion = US$58,800).
China, the epicenter of the crisis, has resolved the problem within two months. But in Vietnam it remains unresolved.
The biggest issue in Vietnam is one of perception rather than actual contamination of dairy products. But with authorities failing to provide timely or authentic information, speculation and rumors have been driving the issue, causing losses to farmers, producers, and consumers.
The problem seems to be the authorities' failure to learn from previous crises: They have let rumors abound, contradicted each other while releasing information, and are struggling to clarify inaccurate information.
Admittedly, they have carefully monitored and cracked down on the melamine-contaminated dairy products but they are also culpable of releasing contradictory information, affecting the dairy industry.
In their defense, the Ministries of Health and Agriculture and Rural Development, faced with massive pressure from the public, cannot resolve the problem themselves and require the assistance of many other agencies.
Their public relations efforts cannot succeed without support from local governments. The latter need to establish a mechanism to deal with such crises and spell out who will be responsible for providing information.
When the soybean sauce contamination scandal broke in Ho Chi Minh City in 2006, the Public Medical Sanitary Institute and Department of Food Hygiene and Safety passed the buck to each other.
When rice prices surged last year city authorities could not use the media to allay the fears of the public; rumors were flying thick and fast and everyone seemed to become a rice speculator for a period.
When faced with similar problems, corporates hire a slew of PR and media consultants.
People say that everyone has lost in the melamine milk scandal. It is true. But it is important that lessons are drawn on how to deal with such crises.