Land for growing rice in the Mekong Delta has decreased by at least 20,000 hectares per year since 2000, and by 24,000 hectares in 2009, accounting for 57 percent of rice-land loss nationwide.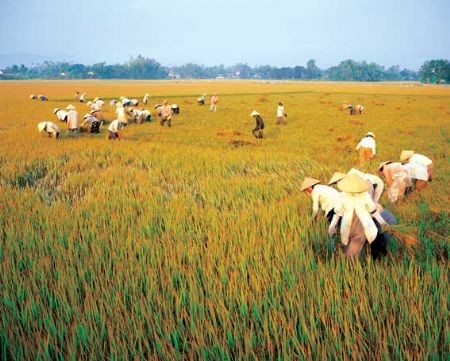 For every lost hectare of land, up to 10 local residents are negatively affected, says the Ministry of Agriculture and Rural Area Development.
Most of the fertile land has been converted into golf courses, industrial zones and urban areas.
There are now 116 industrial zones covering 13,000 hectares in the region. However, the industrial zones operate at only 46 percent of their capacity, leaving 7,000 hectares uncultivated.
An upcoming project, meanwhile, is scheduled to use another 8,500 hectares of land to establish industrial processing zones, creating more headaches for local residents.
Farmers who produce rice and provide for the nation have been suffering the most. As a result of the increased development, many have been left jobless or have seen their annual earnings dwindle.
An investigation by the Ministry of Agricultural and Rural Area Development said that for every lost hectare of land, up to 10 local residents were negatively affected.
Scientists say it is unnecessary to build industrial zones in fertile rice-growing regions and that these areas should instead be used only for developing agriculture.
Any industrial zones built on such land should serve only to modernize agribusiness, intensive farming, or processing of agricultural products, experts say.
Ph.D. Le Van Banh, the director of the Mekong Delta Institute of Rice, said that the delta needed an objective decision-making body to decide which places were good for growing rice, and where industrial development projects would best be suited.
It is unnecessary to have golf courses and industrial zones in every province, which leads to wasted rice-growing land, he added.
Climate change has also heavily affected the delta, threatening to further shrink agricultural land and jeopardizing food security.
Regional development policies are needed to protect fertile land and ensure farmers' livelihoods. Experts say the government should unite scientists, farmers, and businessmen to create such policies for preserving agricultural land and dealing with climate change.
The matter is urgent, said Mr. Banh.