One day in September 2013, it was one day like any other day. I was on Facebook, scrolling down the page, hitting the "like" button on every post in my news feed. Didn't even read what they were all about…Something was different from other normal things on other normal days.
I've got a message. It had been ages since I added him as a friend thanks to Facebook's suggestion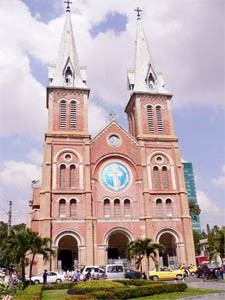 Notre Dame Cathedral in HCM City -SGGP
Patrick Twoo
I have an internship in HCMC. I'll be there next week ;)
So that was how I met him and also… how he met his destiny love ever: Ho Chi Minh City.
Two week later, Patrick Twoo said hey, I'm in HCMC now. Found a reasonable room near Ben Thanh market WITHOUT YOUR HELP!!!
Who has said that she would help me?
Rachel Nguyen
You didn't even tell me when EXACTLY you come. You thought that I would go to the airport every day, building up a camping tent, waiting for you? LOL
Patrick Twoo
Ok ok fair enough. Even though I found a room by myself, I can't discover the city on my own ;)
So we met up at the park opposite Notre Dame Church. 8AM is early for a foreigner but that late for a typical Vietnamese. I had never had a cup of coffee at this time; actually I went to my university at 6:30 then classes started at 7:00. No time for coffee though.
He came and he changed my routine a bit. I wondered why I didn't recognize the beauty of the city where I had been living since I was born. Thousands of people were rushing to be somewhere in this city. This city itself is a composer's piece. Everyone has a different tempo. They painted the city with their very own music. The streets seemed to be coated with streaks of various sounds and noises, the smell of coffee and motorbike fumes.
The soft clucking of tongue from a student nearby as he was drawing the view on his paper was also songs to me. Once in a while, I closed my eyes and simply listened to the sizzle of the pan as crisp sweet potatoes and bananas moving their way in the crackling pool of oil. The food seemed to be seasoned with that occasional sizzling sound.
The city was of value not only in terms of sights, but also in terms of sounds and smell. Junk food with reasonable price but super delicious was something I had missed in those past years till he came. Coffee was a culture here. Everyone was having coffee while chatting and reading newspapers. Who said having a cup of coffee in the park was a bad idea? In fact, it was even more enjoyable. I was having a bath in such sweet "music". … He came. And he went away.
And then one day in July 2014, Patrick Twoo asked again, Rachel, I miss HCMC as hell! I'll come back in August.
Rachel Nguyen
That sounds nice. Then you can join us in this Mid-Autumn Festival.
Patrick Twoo
I'll bring you some love from Germany: chocolate. In German, you say "Schokolade". Hey you have to show me how to pronounce the word "moon cake" in Vietnamese so that I can buy moon cakes by myself. LOL
Rachel Nguyen
Sure. My grandmother can make moon cakes. If you stay a bit long, I'll take you to her house. We can make moon cakes together. But, are you coming back because you miss "your HCMC"? LOL
Patrick Twoo
Well, "miss" is not enough. I think I'm addicted to this city and… I love moon cakes ;)
Rachel Nguyen
Fine. That's how you treat your dear friend. :-w
Patrick Twoo
I won't tell till I'm there
I am going to make a plan to find out more about "my HCMC". It never stops amazing both of us.
Yeah Mid-Autumn Festival is coming!!!