Sai Gon Giai Phong English Online has received as many as 20 stories from entries in Ha Noi, Da Nang, Vung Tau, HCMC..for the writing contest "Vietnam your experiences with festivals and destinations".
The organization board has selected and here are some stories which will enter the final round. Winners will be announced on December 10 and winning entries will be invited to take part in the award ceremony in Sai Gon Giai Phong Office: 399 Hong Bang Street, District 5 -HCMC.
Unforgettable memories at Loc An Beach
It is ironically thanks to its relative anonymity that Loc An beach has managed to preserve its wild, untamed and romantic nature with green ferns, huge rocks and lush surroundings untouched by modern civilization.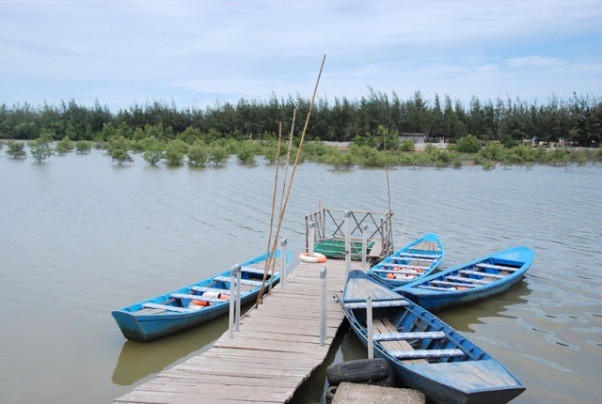 Photo: KNDL
Vung Tau beach is popular tourist destination, both for local and overseas visitors. Yearend's one day, our family had decided to travel to Loc An beach that is very close to Ho Chi Minh and It is not a well-known place. Located in the Dat Do district of Ba Ria Vung Tau province which is 120km from HCMC, Loc An beach is currently in the process of becoming another popular spot along the coast of Ba Ria Vung Tau.
We departed at 5am heading to the Long Thanh cow's milk farm for breakfast. Here we experienced a glass of fresh milk. All tours to Ba Ria Vung Tau stop here so tourists get the opportunity to buy products made of fresh milk. After that, we drived directly to the Ba Ria Vung Tau province; the whole journey took approximately two and a half hours because we took national highexpress Long Thanh.
On the way to Loc An, our family has also the chance to discover the sights of the Ba Ria Vung Tau province. The Loc An Green hotel is great place to stay for weekend or a few days to relax and explore the area. From Green Loc An hotel, we could discover the Loc An beach where we took a boat trips occuring two or three times per day, we experienced a great trip on a boat with a proficient rower. Loc An has a long beach with white sand dunes that appear behind lines of fern trees.
Loc An beach is more charming and has a very romantic quality at sunrise and sunset.
Those who love natural scenery will be very happy when exploring Dat Do district of Ba Ria Vung Tau province and you also have opportunity to catch small snails on the Loc An beach. While here, we tasted fresh crabs, snails or fish that have just been caught in the sea by local fishermen. Fresh seafood in Loc An is sold more than fourfold cheaper than in Ho Chi Minh City.
For the first time, we recognized that the anonymity of this beach is reason why Loc An has kept its natural, untamed and romantic nature. Our family designed to stay for two nights here.
The most interesting point at Loc An is the night on fire. We collected dried firewood to make a camp fire. Long at the sea at night is very wonderful; the sounds of the wind and the waves are very medolious. We all members sat in a circle and sang together. One thing we didn't forget was to bring guitars with us.
Loc An beach becomes more romantic with the flickering lights of the camp fire. At midnight, when every body was exhausted from the day's activities, hot fish gruel is served for supper.
Before leaving Loc An to go back to Ho Chi Minh City, we visited Loc An market to buy fresh seafood. A two day tour to Ba Ria Vung Tau province during the yearend's holidays is good idea.