After the article "Culture and Arts Schools' Students Banned from Performing in Night Clubs" in our May 24 issue, we received feedback from several managers and students of culture and arts schools stating that such regulations only reveal the shortcomings of the related authorities' management policies.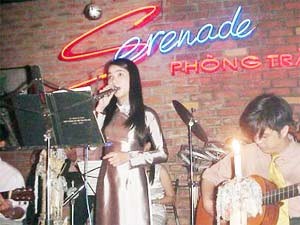 A singer performs at a decent bar in Ho Chi Minh city.
Performing in Entertainment Places is a Way to Earn a Living
Mr. Tran Quoc Cuong, Principal of the Vietnam Dancing College, said most students of the school come from the country or remote areas. Their families earn only VND 2,000/day. Meanwhile, only 20% of the students are granted scholarships. He asks how his students can survive if they are not allowed to perform in order to earn money for their tuition fees and daily expenses.
Mr. Cuong said, " We don't encourage our students to go to work while they are still young and inexperienced. The length of service of a dancer, however, is very short. Past 30, a dancer will no longer have many chances to perform. If we take this fact into account, we will have sympathy towards the students."
He added, "In my opinion, a ban won't really work. It is better to make our students understand that performing in unhealthy entertainment places is illegal and anyone who violates the law will be charged and receive appropriate penalties. If students in other colleges and universities can earn money by working as tutors, salesclerks, and waiters or waitresses, why can't students of culture and arts schools earn a living by their own skills and capabilities?"
Colonel An Thuyen, Principal of the Military Cultural and Arts University, said that not all entertainment places are indecent. A policy allowing students to register their places of performance with their schools instead of a ban may be more appropriate. Students may go if the venue is a decent one.
Performing in Entertainment Places Offers a Way to Practice
In the view of Ministry of Culture and Information and in the particular opinion of Mr. Le Ngoc Cuong, Director of the Department of Arts and Performance, students' main tasks are to study and hone their professional skills, not make money. Above all, bars and nightclubs, according to them, are just entertainment places, not suitable locations in which students may improve their professional skills.
In reality, however, students of cultural and arts schools do not have many chances to perform on a real stage and become familiar with an audience to gain necessary experience before their graduation. To improve their professional skills, and earn some money, students have no choice but to resort to small stages in healthy entertainment venues.
Mr. Ton That Loi, Director of Thanh Hoa Organization and Performance Co., Ltd.- Aladin Bar, asserted that many students of the Hanoi Conservatoire, the Hanoi Arts College and the Hanoi Military Cultural and Arts University perform in his bar every night. They are not only offered room on the stage but also given necessary advice for a successful performance.
He thought that the ban is just a rigid decision.
Other readers think that instead of issuing a ban on the performances of Culture and Arts Schools' students in nightclubs and bars, the related authorities should think of more effective mangament measures to control illegal activities within the entertainment industry. Then, not only students but also the public at large will enjoy more decent activities.