His tongue might have been firmly in his cheek, but when Sir Alex Ferguson recently told English journalists "the master race is back", there was more to it than a Scot simply teasing his nation's old rivals.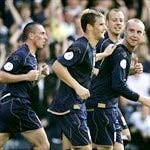 Old Firm stars (from L, R) Scott Brown, Lee McCulloch, Alan Hutton and Kris Boyd celebrate a Scotland goal (Photo: AFP)
Ferguson was, after all, speaking at the end of a week that had seen Lyon, Dnipro and the European champions, AC Milan, humbled by Scottish opposition, and ahead of attending a 3-1 win over Ukraine that took Alex McLeish's national team to within three points of the UEFA EURO 2008 finals. It was exactly triumphs such as these that had led Ferguson's old friend, Marcello Lippi, to name Scotland as "the emerging country" in world football the month before, and for many the Scots' resurgence can be attributed largely to a new and infinitely stronger relationship with its two biggest clubs.
So strong has the bond between Scotland and the Old Firm become, in fact, that McLeish yesterday requested that both Celtic and Rangers postpone their domestic fixtures ahead of a winner-takes-all qualifier against Italy he labelled "our World Cup final". The need for such a step - which has already received the clubs' backing - can be best illustrated by the fact that the Old Firm provided six of Scotland's starting 11 against Ukraine and that, between them, Celtic and Rangers ensured that there were more Scots than Englishmen - 13 to 12 - in action during the last round of UEFA Champions League matches.
Solitary Scot
The need for Old Firm postponements would have been unthinkable when Scotland last attempted to qualify for a European Championship in November 2003, this with just one representative from the Glasgow giants in the side that beat Netherlands 1-0 in the first leg of an ill-fated play-off. That same player, Jackie McNamara, had also been the only Scot to start the previous month's Glasgow derby, a match that showcased the talents of Henrik Larsson, Mikel Arteta and Chris Sutton among others.
A new philosophy motivated by financial realism has consigned those days to the past, and Celtic manager Gordon Strachan believes that Scotland and the Old Firm's new-found mutual reliance is proving beneficial to both parties. Asked to explain the recent success of the national team, he said: "I do believe it's because there are so many Scots playing at Celtic and Rangers. They are getting a taste of playing at the highest level, competing against the world's best in the Champions League. That helps Scotland and because they are doing so well with their country they come back to our club feeling good about themselves."
There has also been progress from the days when Celtic and Rangers were perceived more as a hindrance than a help to the national team, due largely to the inherently divisive nature of their bitter rivalry. Fans from both sides of the divide certainly seem to have united behind McLeish's side and on Saturday, when the two sides met in the 376th Old Firm derby, there was - despite the usual scuffles - also evidence of friendships on the field.
There were certainly plenty of players in blue shirts who displayed genuine concern when McManus, Celtic's captain, required oxygen on the field after being knocked unconscious in an accidental collision. "There's never a problem with Celtic and Rangers players when you go away," McManus had said before the match. "It's a really good squad of players who get on tremendously well."
'We do everything quickly'
It might be expecting too much that Celtic fans will cheer on Rangers against Barcelona tonight, and that the Gers supporters will return the favour when their old rivals face Benfica tomorrow, but the feelgood factor remains - albeit tempered with a clear sense of realism.
"It has been a fantastic few weeks," said Smith, whose Rangers side have taken maximum points from both Stuttgart and Lyon. "But from a realist's point of view we're still far away from the elite of European football. Where we are gaining kudos - and deserved kudos in many ways - is the fact that at least we're there and we're challenging.
"We're now starting to look a level of player who, while maybe not to be mentioned in the (Kenny) Dalglish and (Denis) Law-type standard, are extremely good professional players who go about their job in a great manner. But there's no economy in the way we play. Scottish teams have got to be flat out to gain the respectability we have at the present moment."
Typically, his Celtic counterpart agrees: "I don't think we will ever get to the languid style of, for example, Spanish football. That's just not right for us. Scots do everything quickly. Up and at 'em. It's about adapting what we've got. You go to Spain and have a meal with someone and it can last two hours; here we can have it in ten minutes. We even speak quickly!"
Fortunately for Scotland and the Old Firm, their fortunes continue to advance every bit as speedily.