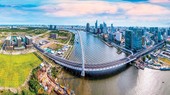 From a deep decline in the third and fourth quarters of 2021,
Ho Chi Minh City's economy
in the first months of 2022 is making strong recovery steps. Gross Regional Domestic Product in the first quarter increased by 1.88 percent over the same period. Continuing the growth momentum, in April, the city recorded many bright spots, but there were still many challenges to face.